IOC reinstates Jim Thorpe as sole winner of 1912 Olympic decathlon and pentathlon
Jim Thorpe, a member of the Sac and Fox Nation, became the first Native American to win an Olympic gold medal when he won the decathlon and pentathlon in 1912 in Stockholm. Jim Thorpe, stripped of his 1912 gold medals because he'd been paid to play minor league baseball, was reinstated  as the sole winner of that year's Olympic decathlon and pentathlon by the International Olympic Committee.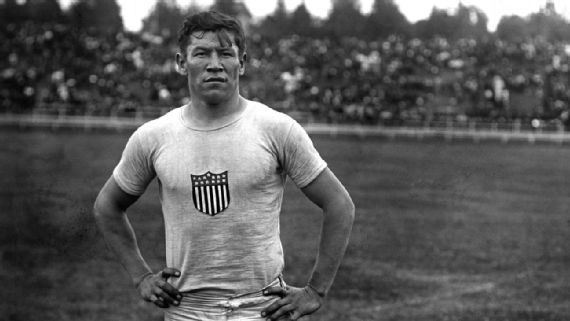 Thorpe, voted the greatest athlete of the first half of the 20th century by The Associated Press, won the decathlon and pentathlon at the Stockholm Olympics. However, because he had played minor league baseball in 1909-10 -- earning a reported $2 per game to $35 per week -- he was stripped of the medals in 1913 for violating the existing amateurism rules. The Amateur Athletic Union in the United States withdrew Thorpe's amateur status, and the IOC unanimously stripped Thorpe for being a professional.
The decision has been controversial ever since, especially to Native American communities. Thorpe was a member of the Sac and Fox Nation, and was the first Native American to win a gold medal.
After years of lobbying, the IOC Executive Committee reinstated Thorpe in October 1982, but said he was the co-champion with Hugo Wieslander (decathlon) and Ferdinand Bie (pentathlon). On Thursday, he was restored as the sole champion.
"

All the professionalism and production values of much larger events like the Grammy Awards and the American Music Awards" "
— American Federation of Radio Television Artists (AFTRA)
2022 NATIVE AMERICAN MUSIC AWARDS NOMINEES
Over 20 Album & Artist Categories
Over 15 Single Song & Music Video Categories
Single Categories & Music Video Nominees to be announced Wednesday, January 19th at 7pm EST
(All Recordings Released from 2019 through 2021)
CLICK HERE FOR A COMPLETE LIST OF NOMINEES: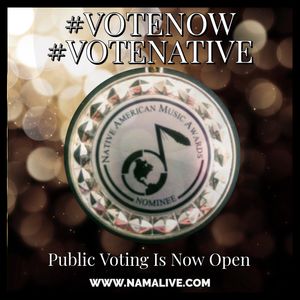 Thank you for your support! Nominees have been announced and public voting was open to the general public. Winners will be announced on November 19, 2022.
Stay posted for upcoming information! Please Stay Safe and Healthy!
LISTEN AND EXPIERIENCE ALL NEW NORTH NATIVE AMERICAN & INDIGENOUS MUSIC HERE FIRST!
SUBSCRIBE NOW TO OUR YOUTUBE CHANNEL!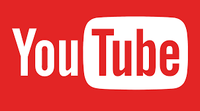 Plus Watch Our Award Winning Videos 
https://www.youtube.com/c/NativeAmericanMusicAwards
"Native America is a culture and a people deeply stemmed and intertwined in music since the onset of their existence.  We have a song for every aspect of life; ceremonials, sports and dance to courting, birth and death. We have survived incredible oppression and challenges. Today, we celebrate our survival through music and dance."
Read more at:  https://dailycampus.com/2020/10/16/pop-cultured-roots-in-america-indigenous-music/
google-site-verification: googled00cd634b8c67155.html