"

Devoted to bringing Indigenous music to the world's consciousness. "
— New York Times
MICKI FREE INDUCTED INTO THE HALL OF FAME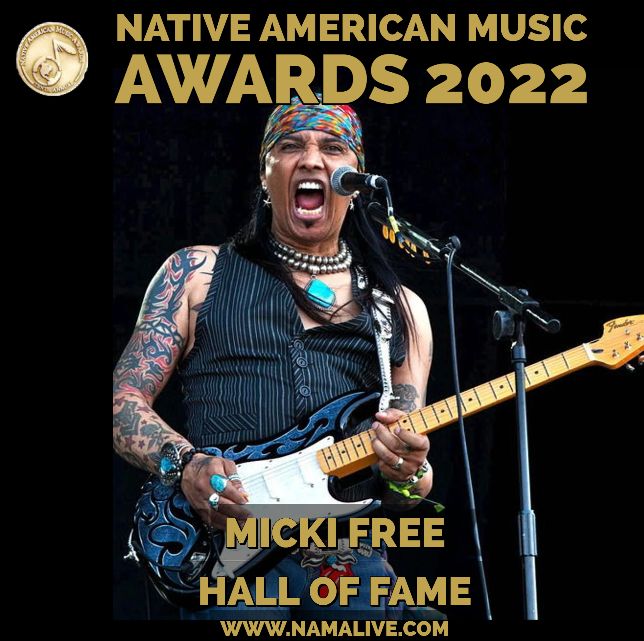 Inducted November 21, 2022, this year's Hall of Fame inductee is Micki Free, a Grammy Award winner & multiple Native American Music Award winner of Comanche and Cherokee descent. Originally discovered and managed by Gene Simmons of KISS, Micki was the guitarist in the R&B sensation, Shalamar who boasted mega platinum hit songs like "Dancing In The Sheets" from the movie soundtrack "Footloose", and won a Grammy for "Don't Get Stopped In Beverly Hills"  from the Beverly Hills Cop soundtrack.  Micki is currently on tour supporting his latest album, Turquoise Blue, which features members of The Santana Band, Steve Stevens of Billy Idol and Gary Clark Jr.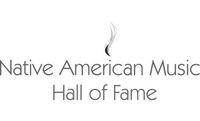 2019 WES STUDI INDUCTED INTO THE NAMA HALL OF FAME 
Wes Studi (Cherokee) 2019
Wes Studi is a Native Oklahoman, Vietnam Veteran, Actor, Musician, Sculptor, Author, Activist and the first indigenous Native American actor to receive an Academy Award. His first few roles quickly established him as one of the most compelling actors in Hollywood; form the Pawnee Warrior in Dances with Wolves, to his powerful performance as Magua in Last of the Mohicans'; and as a LAPD Detective in Heat with Robert De Niro and Al Pacino.  Wes has well over 80 film and television productions to his credit, including his more recent appearances in Avatar and Hostiles.  He has brought unmatched dignity and integrity with each and every one of his performances.  He is undoubtedly, the greatest and most authentic Native American actor of our time.  Earlier this week, the Academy of Motion Picture Arts & Sciences bestowed him with a Governors Award for his distinguished 30 year career, making him the first Native American actor to receive an Oscar.  Wes is also an accomplished musician and fronts the band Firecat of Discord with his wife, singer Maura Dhu while playing bass and guitar. His band has released one CD and recently completed new material.  His work has established him as a superior role model for all of Indian Country and for other indigenous actors and entertainers around the world. The Native American Music Awards is very proud to induct Wes Studi into the NAMA Hall of Fame.
2018 JESSE ED DAVIS INDUCTED INTO THE NAMA HALL OF FAME      
2018 - The Native American Music Awards & Association is very proud to announce that Jesse Ed Davis was inducted into  the Native American Music Hall of Fame during the 18th Annual Native American Music Awards (NAMA) ceremony on    Friday, October 12th at the Seneca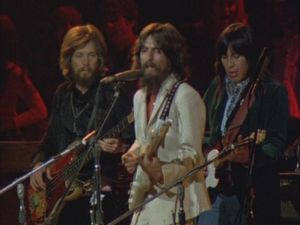 Niagara Resort & Casino in Niagara Falls, New York.
 ABOUT JESSE ED DAVIS:  Jesse Ed Davis was one of music's most distinctive and influential guitarists of the late ' 60s and early '70s. Whether it was blues, country, or rock, Jesse's' impressive guitar playing was featured on numerous albums by such artists as; Eric Clapton,  Bob Dylan, Jackson Browne, Willie Nelson, Steve Miller, Leonard Cohen, Neil Diamond, John Lennon, George Harrison, Taj Mahal, John Lee Hooker and Rod Stewart as well as on his own. Born in Norman Oklahma, Jesse's father was Comanche and his mother was Kiowa. Jesse's two sisters accepted Jesse's award on his behalf, and his Graffitti Band members Mark Shark & Quiltman performed a tribute.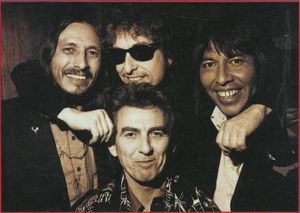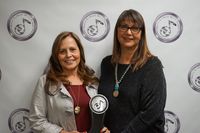 Jesse Ed Davis joins an impressive array of previous Hall of Fame inductees as: Link Wray, Jimi Hendrix, Redbone, Nokie Edwards, Taboo, Jim Pepper, Hank Williams, Buddy Red Bow, Jim Pepper & more. Jesse & many of these NAMA inductees were recently featured in "Rumble: The Indians Who Rocked The World"
Hall of Fame, Living Legend, Lifetime Achievement Recipients