"

A Native American music revival has been taking shape, with releases, sales and airplay increasing substantially... and the New York-based Native American Music Association have lobbied the recording academy for a Native American category since the mid-1990s. "
— Knight Ridder Newspapers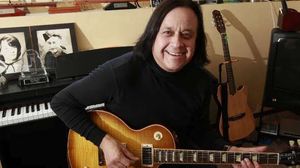 Award Winning Musician and Visionary Founder of Eagle & Hawk and Indian City Vince Fontaine, Journeys On 
Musician, composer, and producer, Vince Fontaine died suddenly this week of a heart attack. Seemingly vibrant and healthy, Fontaine was last publicly seen performing live in a video of the song, "Star People" for a friend just one day prior to his death. His passing has left the North American Native American music community in shock. The visionary co-founder of Eagle & Hawk and the folk-rock group Indian City. died this week after suffering a heart attack, confirmed Jay Bodner, his bandmate of 25 years. Fontaine was 60 years of age. On Sunday, January 16th, a celebration of life ceremony was held in his honor in Winnipeg, Manitoba, Canada with performances by the Walking Wolf Singers and some of Vince's vast musical family. "Vince was an incredibly talented and highly influential musician and a kind person who befriended many. Our entire North American Music Community is greatly impacted by this loss," stated Ellen Bello, Native American Music Awards President and Founder. Fontaine's lifelong career is celebrated with accolades of awards and recognition. Fontaine founded two multiple award-winning bands; Eagle & Hawk, and a second collective group, Indian City. He was awarded a total of four Native American Music Awards; two for Best Rock Recording with Eagle and Hawk in 2006 and again in 2009; and with Indian City for Best Instrumental Recording (2011);  and Best Music Video Performance (2018). To date, Eagle & Hawk has received a total of 75 nominations and over 30 wins at other awards ceremonies including a prestigious Canadian Juno Award. In 1994, guitar player Vince Fontaine, teamed up with Winnipeg's Troy Westwood, to form the basis of what would become one of the most celebrated and internationally recognizedIndigenous-rooted rock band, Eagle & Hawk. Their debut album, The Dream, was released in 1997. However, Westwood left the band as he was unable to balance the band's touring commitments against his work as a football player for the Winnipeg Blue Bombers. He was replaced by Jay Bodner who would remain the band's frontman and lead singer for the rest of the band's career. Other musicians associated with the band have included; keyboardists Gerry Atwell, Jaylene Johnson, Will Bonness, and Rena Semenko; bassists Randy Booth, Jeff Monkman, Clint Adams, Lawrence "Spatch" Mulhall, D.J. St. Germain, and Tik Mason; and drummers Mike Bruyere, Brent Fitz, Steve Broadhurst, Kevin Radomsky, Marty Chapman, and Rich Reid. Eagle & Hawk has released multiple albums in the U.S. and Canada; including their debut album, The Dream (1997), Indian City (1999), Eagle & Hawk (2000), Mother Earth (2004), Life Is... (2005), Sirensong (2008), 20 Years Best of (2018), Liberty (2019), Sundancer 21 (2020) and most recently, Code Red, which was released just this past October. Eagle & Hawk have toured Europe and played some of the largest stages in North America including Capital Hill and the New Orleans Jazz Festival.  Vince Fontaine also used his many years of entertainment industry experience to become Festival Manager for the 2002 North American Indigenous Games Opening Ceremonies in Winnipeg and the Symphony Orchestra's Indigenous Festival. In 2011, Fontaine released his first solo effort entitled, Songs for Turtle Island, a record exploring Indigenous stories and themes alongside a fusion of Indigenous, contemporary and classical instrumentation. Continuing his own development as an artist, Vince Fontaine's Indian City, featured new sounds, and incorporated elements of contemporary pop, rock and electronic music alongside traditional Indigenous themes. He collaborated with other artists including; Don Amero, William Prince, Pamela Davis, and Neewa Mason for his collective project. Their 2012 album, entitled, Supernation, fused traditional aboriginal music with experimentally tinged folk rock. The album earned a Native American Music Award for Best Instrumental Album. Indian City's third album, Here & Now, was released in 2017 and the song from the album, "Through the Flood" won Best Music Video Performance from the Native American Music Awards. Later that year, Fontaine celebrated a licensing deal with APTN, Showtime and Sony Music. Vince Fontaine was a known champion of indigenous music and an avid supporter of other artists in Winnipeg, Manitoba and beyond. Fontaine's drive was propelled by his passion for sharing the beauty of Canada's Indigenous culture. Always with intent, his songwriting carried Indigenous stories, imagery and spirituality and connected traditional ideals with audiences of today. In addition to his musical presence, he has been recognized as a supportive community leader. Fontaine was also a regular in the annual JUNO Cup where NHL greats and Canadian musicians face off in a fun, competitive, non-contact hockey game in support of the music education charity, MusiCounts. But he will be most known as an Anishinaabe man and a member of Sagkeeng First Nation who loved his culture, his people, his family and his fellow musicians with strong traditional values of: honesty, love, courage, truth, wisdom, humility and respect. "It turns out the things that are important are still the same," Fontaine recently said. "Life will carry on. Vince's love for music was only outshone by his love and devotion to his family, friends, and community. Vince was predeceased by his father Henry (Manish); his sisters, Sharon, Shirley, and MaryCarole; and nephew Chauncey. Vince will be incredibly missed and his memory held dearly by his mother Nora (Nan); his wife and partner of 36 years, Dodi; his children, Aleah, Gabrielle, Joe; his brother, Larry; his nieces and nephews, Nahanni, Tonya, Talia, Shauna, Naomi, Robert, Justin, Zeb, Zal, and Zoe; his siblings-in-law, Steve and Nancy, Faith and Randall, and all of the Bell family. 
THE MOST HONORED AND CELEBRATED MUSIC MATRIARCH
JOANNE SHENANDOAH JOURNEYS ON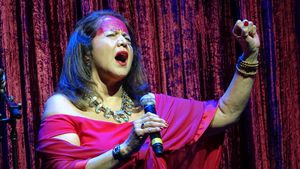 Native America's Musical Matriarch And Peace Maker Dies 
It is with deep sorrow and profound sadness that the Native American Music Awards & Association (NAMA) share in the outpouring of grief of our beloved friend, Lifetime Achievement honoree, and 14 time Award winner, Joanne Shenandoah, following the announcement of her passing.
On Monday, November 22nd approaching midnight EST,  Joanne Shenandaoh died at the Mayo Clinic in Scottsdale, Arizona following complications of abdominal bleeding and suffering a cardiac arrest. She was surrounded by her husband, Doug George-Kanentiio and daughter Leah.  
A member of the Wolf Clan of the Oneida Nation, of the Haudenosaunee Six Nations Iroquois Confederacy, Joanne Shenandoah was the most critically acclaimed and honored Native American singer since her debut recording in 1989 with, Joanne Shenandoah. She went on to record a total of 15 albums with numerous more collaborations. She has won a multitude of awards, including 14 Native American Music Awards, the most ever awarded to a singular artist, and a GRAMMY for her contribution on Sacred Ground: A Tribute to Mother Earth. She has earned two Grammy nominations for her albums, "Covenant" and "Peacemaker's Journey", an Emmy nomination for the PBS special "Native America," was inducted into the Syracuse Area Hall of Fame, and received an Honorary Doctorate of Music from Syracuse University in 2002. She was also an original board member of the Hiawatha Institute for Indigenous Knowledge, which operates in partnership with Syracuse University.
Just this year, Joanne released her last full length recording entitled, Oh Shenandoah available on Amazon.com. The 12 track recording features a collection of country infused songs along with a poignant dedication to Missing Murdered Indigenous Women (MMIW), "Missing You."   Joanne, with her daughter Leah and sister Diane, delivered an emotive and moving live performance with "Missing You", at her final appearance at the 19th Annual Native American Music Awards. As the Awards most decorated and honored artist with 14 Native American Music Awards, Joanne's accolades include: Best Children's Recording, Best Traditional Recording, Best Music Video, Best Producer, as well as multiple awards for;  Best Female Artist, New Age Recording, Best Compilation, Artist of the Year, Best Compilation.  She also sang backing vocals on a new song by singer/songwriter Jimmy Lee Young called, "Precious Light."
Over her five decade plus career, whether performing solo or with her musical trio featuring her daughter Leah and sister Diane, Joanne has graced the stages at; The White House, Carnegie Hall, Presidential Inaugurations, Madison Square Garden, The Smithsonian, Woodstock '94 and participated in the celebration of the canonization of Kateri Tekakwitha, the first Roman Catholic Native American saint in Rome, Italy. As a humanitarian and peace advocate, Joanne met and performed for such noted leaders such as his Holiness the Dali Lama, and Nelson Mandela.
Joanne's beautiful embellishing voice, strong Iroquois traditions, unequivocal elegance and courteous grace made her a prominent role model and highly respected musical Matriarch among Native American communities as well as the mainstream music community at large. She sang with deep roots from her ancestors and flawlessly incorporated her oral traditions into contemporary Folk, Country and Americana formats. She captured the hearts of audiences all over the world and always took time to encourage and inspire younger musicians in her travels. She made an incredible impact on this earth and has paved paths for so many.  The Native American Music Awards will continue to best ensure and preserve her legacy.  She will be greatly missed.
She is predeceased by her parents Clan Mother Maisie Shenandoah, Father Onondaga Cheif Clifford Shenandoah, predeceased by one brother Gerald Schenandoah, survived by her daughter Leah Shenandoah, grandson Ryder Shenandoah, husband Doug George, four sisters Wanda Wood, Diane Schenandoah, Victoria Schenandoah and Danielle Schenandoah and numerous nieces and nephews. Our sincerest condolences to her family.
Visit our photo gallery of Joanne's life in pictures at: https://nativeamericanmusicawards.com/galleries/896190/in-loving-memory-of-joanne-shenandoah-1958-2021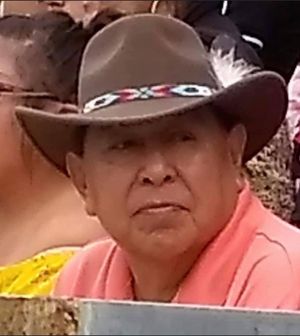 His last post stated....
TAKE THIS SERIOUS. DON'T TAKE IT FOR GRANTED. LET' US ALL PRAY TONIGHT - Fred Kaydahzinne
Fred Kaydahzinne was a full blooded Mescalero Apache composer, singer and storyteller who resided on the Mescalero Apache Reservation. Fred along with his son Bo Kaydahzinne and Sherman Blake are all descendants of the Great Apache Chief Cochise. Fred was an Apache Medicine Man known for his traditional songs. His medicine songs were popular on the Mescalero reservation and in Indian Country. Many of Fred's songs have been passed down through the generations from the great Apache warriors Geronimo, Cochise and Naiche. They have never been recorded before. Fred Kaydhzinne was also featured in the NAMA award-winning documentary special entitled, Homeland Nation hosted by Rickey Medlocke (Blackfoot and Lynyrd Skynyrd) and also featuring Houston Geronimo among others .
Apache Actor Jay Tavare who appeared in Street Fighter, Into The West, and CSI Miami said, " The Apache Nation lost a priceless gem today.... his Medicine songs were in demand on the Mescalero reservation and Indian Country for feasts almost daily. Freddie was an artist, singer and musician, a historian of his culture and a great husband and father. My deepest Condolences to Bo, his son and wife, Edith Kaydahzinne and all his immediate family. I share your pain. You are all in my prayers".
On November 9th, Fred Kaydahzinne's last social media post asked everyone to pray to fight COVID. He stated: "My Dear Tribal Members:. This virus is hitting us hard. We lost some people. I am asking each family to be in prayer tonight. Get together with your family and let them know we are losing our people, some are struggling and fighting for their lives in different hospitals. The virus has hit my home. I am praying. We also lost Harlyn Geronimo. I lost an aunt (Beverly). Take this serious, don't take it for granted. Let's us all pray tonight. Please share,"
We express our sincerest condolences to Fred's family and pray as he journeys on. In honor of the late Fred Kaydahzinne, we urge everyone to heed his last words. Please pray for him and all those fighting COVID.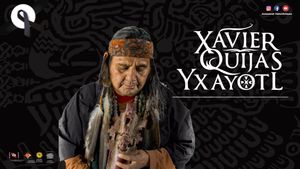 Maestro Xavier Quijas Yxayotl Walks On 
Xavier Quijas Yxayotl, the world's preeminent indigenous composer and musician of prehispanic Aztec & Mayan music, has passed away due to complications from surgery. Born in Guadalajara, Jalisco Mexico and of Huichol heritage, Xavier's indigenous name, pronounced (e-shy-oat) 'Yxayotl' is Nahuatl for 'tears'.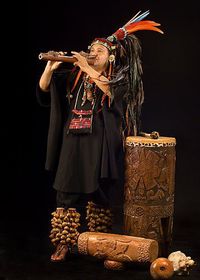 Xavier Quijas Yxayotl moved to the mountains of Jalisco and Nayarit, Mexico to live with his Huichol relatives and the Tepehuane people in the 70's.  There, he studied and learned to play pre-Columbian instruments while participating in ceremonies and rituals.  The knowledge he acquired enabled him to make museum quality instruments, such as, Mayan and Aztec drums, flutes, turtle shell drums, rainsticks, log drums, rattles, and gourds.  Yxayotl spent most of his life constructing and playing these instruments and performing all over the world.   
In 2004, he performed at the opening ceremony for the Nobel Peace Prize event in Rome giving blessings to the Dalai Lama, Michael Gorbachev and Jimmy Carter.  He also performed at the United Nations Gala in New York City in 2005.  In 2006, Mel Gibson purchased Yxayotl's clay flutes to be used in the soundtrack for the movie 'Apocalypto". Andre 3000 did a traditional flute apprenticeship under master flutemaker Xavier.  His extensive knowledge and wisdom in music and the ways of the ancient Americas, also led him to consult the History Channel.  His music can be found on Amazon, Pandora and Spotify and on YouTube where he has over one million and half subscribers.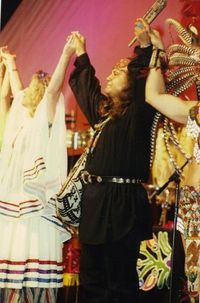 Xavier was honored to have had six of his seven CD releases nominated by the Native American Music Awards - two of them for Flutist of the Year. He performed at the Fifth Annual Native American Music Awards along with the international dance group, "Call For Peace".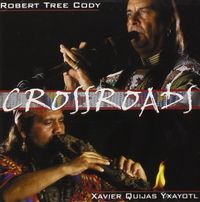 One of the nominated recordings was the landmark album entitled, Crossroads, which he collaborated with award winning artist Robert Tree Cody on Canyon Records. For the first time ever, the music of the native people of the Great Plains were recorded with the ancient music of Mexico into 12 amazing songs. Crossroads was a colorful blend of indigenous Native American, Mayan and Aztec flutes pulsing drums and ancient chants. 
 A visionary, Xavier Quijas Yxayotl, will be remembered as "The Maestro," and the foremost global authority on traditional Mayan and Aztec instruments. His expertly crafted flutes, Death Whistles, and ocarinas, made according to ancient manuscripts, will remain unmatched. He leaves behind a legacy in the way of ancient Mesoamerican music. Despite all his enormous accomplishments and an unfillable void his passing creates,  this gentle, kind, generous and humble man  will be greatly missed.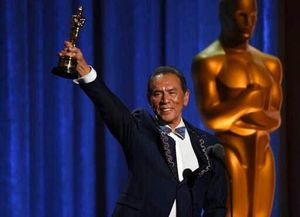 Wes Studi has become the first Native American actor to receive an Oscar. There have been Native American acting nominees - Graham Greene in Dances With Wolves, Chief Dan George in Little Big Man, but no one singular Native American has ever won for acting. Until Wes.
Wes Studi received an Oscar "on October 27, 2019 to honor extraordinary distinction in lifetime achievement, exceptional contributions to the state of motion picture arts and sciences." The Honorary Award is not called a lifetime achievement award by the Academy, but it is often given for a life's work in film.
NAMA Award winner and U.S. Poet Laureate Joy Harjo and Christian Bale presented Wes Studi with his honorary Oscar for Life Achievement  Watch it on twitter: https://twitter.com/i/status/1188656850859749376
Buffy Sainte-Marie, First Nations, Cree in Canada was the first Indigenous musician to receive an Oscar for a song. Sainte-Marie, along with her husband Jack Nitzche and W. Jennings were awarded as a songwriters for Best Original Song in 1983 for "Up Where We Belong" that was performed & recorded by Joe Cocker & Jennifer Warnes in the movie, An Officer And A Gentleman. Here's the 1983 Award presentation by Olivia Newton John.
https://youtu.be/YMRP0HVD63g   Ten years prior, most famously, back in 1973 Marlon Brando turned down his Oscar award for "The Godfather" because of Hollywood's stereotypical treatment of Native peoples. Brando sent Sacheen Littlefeather, Apache, in his place to explain the reasons for his rejection.  
The Native American Music Awards would like to Congratulate Wes Studi on this high honor. Wes Studi graced us with his participation at the First Native American Music Awards. He has continued to make multiple appearances and host our events over the years.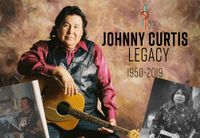 NAMA Lifetime Achievement Recipient & Gospel Legend Johnny Curtis & Young Pop Singer Kelly Fraser Journey On
Condolences to the families of 26 year old Inuk singer, Kelly Fraser and Apache Gospel legend, Johnny Curtis. Kelly's passing is receiving coverage from CNN & People Magazine. Johnny Curtis was a NAMA Lifetime Achievement recipient and a nominee in the Gospel Music Hall of Fame. Recognition of these two great talents continue as they journey on.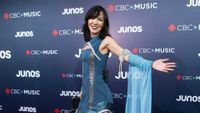 HALL OF FAME HONOREE
NOKIE EDWARDS GONE AT AGE 82
                      Nokie Performing at the 13th Annual Native American Music Awards Pictured Above
Nokie Edwards (Cherokee), universally recognized as one of the world's premiere guitarists and member of the internationally acclaimed instrumental group, The Ventures, has died at the age of 82.
Known for his innovative guitar sound, and credited for such hit songs as; Hawaii Five-O, Walk Don't Run, Surf Rider and Wipe Out, Nokie died from complications of a hip surgery he had in December in Yuma, Arizona according to a family source. 
Nokie won Best Instrumental Recording at the 12th Annual Native American Music Awards for his solo instrumental effort, Hitchin' A Ride. He was also honored with a Hall of Fame Induction by the Native American Music Association at the 13th Annual Awards ceremony in 2011 and performed.
Native American Music Association President, Ellen Bello recalls, "One of the first sounds to capture me as a child were the guitar riffs of Nokie Edwards from the song, Wipe Out. I could never hear enough of it. To personally have met Nokie, the Legend behind that hit song, and be able to induct him into our Association's Hall of Fame, was a tremendous honor that I will always cherish and remember. On behalf of the Native American Music Association & Awards, I extend our heartfelt condolences and prayers to Nokie's wife Judy, and their family and friends. Nokie was an inspiration to so many individuals and bands. He will be greatly missed." states Ellen Bello.
Nokie Edwards was born Nole Floyd "Nokie" Edwards on May 9, 1935 in Lahoma, Oklahoma. He was one of 12 children of Albert Lee Edwards and his Cherokee mother, Nannie Mae Quinton. Nokie first picked up the guitar at age 5. By age 11, he was playing every string instrument but chose the guitar to master. He turned professional at the age of 12 and by age 17, his guitar technique was unprecedented.

Nokie first joined Don Wilson and Bob Bogle to form the Ventures in 1959. These surf-rock icons became the number one instrumental band in the world and were considered a phenomenon in the music business. Nokie and his group were inducted into the Rock and Roll Hall of Fame in 2008. They were inducted by John Fogerty who hailed their pioneering sound that "empowered guitarists everywhere." To date, The Ventures recorded over 350 albums and sold over 100 million albums worldwide.
Nokie's many accomplishments include composing the song, 'Ginza Lights (Futari No Ginza)' which was one of the first Ventures' hits in Japan. The Lively Ones' hit Surf Rider,  which was used in the final sequence of Quentin Tarantino's film, Pulp Fiction. Nokie's contributions in the Light Crust Doughboys' albums; 20th Century Gospel and Southern Meets Soul also earned him two GRAMMY nominations.
Nokie played Fender Telecasters before switching to Mosrite guitars until 1967. He designed and sold his own customized guitar called, "The Hitchhiker," a hybrid of the best elements from the Fender Telecaster and Mosrite guitars.
As a solo artist, Nokie has recorded over two dozen solo albums including the award-winning, Hitchin A Ride. He has been a guest performer on dozen of CD recordings, has received numerous awards along with his inductions into the Rock and Roll Hall of Fame and Native American Music Hall of Fame. Nokie also performed on the soundtrack for the movie, "Pulp Fiction," and appeared as an actor in the HBO series, "Deadwood."
Nokie will forever be revered as one of the world's best and most influential guitarists. Nokie's unique guitar style and sound will always be remembered as will his endearing sense of humor and his enjoyment for telling jokes. As part of his recipient speech at the 13th Annual Native American Music Awards, where he was inducted into the Music Association's Hall of Fame, Nokie cracked a couple of jokes. You can view his induction on the following link:
From the era of 45s and LPs, to the age of social media and digital downloads, master musician Nokie Edwards and his unprecedented talent will undoubtedly withstand the test of time.
Nokie leaves behind his wife Judy and their four children from previous marriages. Nokie's leaves his daughter Tina (he tragically lost his other daughter Kim in a car accident in 1988) and Judy's two boys' Patrick and Seth. Together, there are six grandchildren and four great grandchildren. Judy also serves as president of the Nokie Edwards Official USA Fan Club.
Our thoughts and prayers to Nokie's wife Judy and their family. Nokie will be greatly missed but his music and undeniable guitar style will live on forever.
For more information on Nokie Edwards, visit his official website, http://www.nokieedwards.com/biography.htm 
or visit us at www.NativeAmericanMusicAwards.com
The Native American Music Awards is proud to introduce the newest member of the Native American Music Awards House band from Six Nations, Please welcome.....Dwayne LaForme!!!
Wes Studi Presents Military Tribute at The Oscars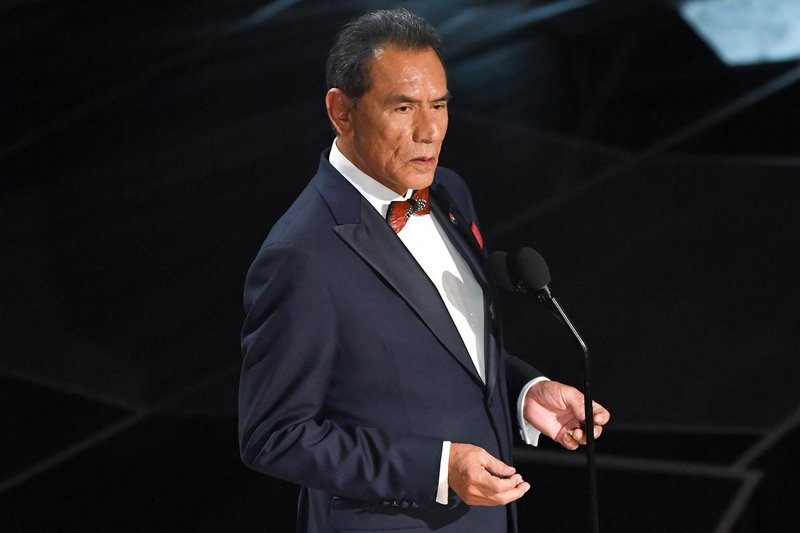 One of the most distinguished American Indian Actors, Wes Studi, recently presented an Oscars Military Movie Tribute at the 90th Academy Awards.
Studi who served as a soldier in the Vietnam War. stated, "I'm proud to have served there for 12 months with Alpha Company of the 39th Infantry... As a veteran, I am always appreciative when filmmakers bring to the screen stories of those who have served. Over 90 years of the Academy Awards, a number of movies with military themes have been honored at the Oscars. Let's take a moment to pay tribute to these powerful films that shine a great spotlight on those who have fought for freedom around the world." 
Studi closed his presentation by reintroducing the montage by speaking in his Native Cherokee language.  American Sniper, The Hurt Locker, Saving Private Ryan, and Zero Dark Thirty were among some of the clips featured in the montage.
Wes Studi has appeared in numerous movies and roles including; Hostiles (2018), Dances with Wolves (1990) and The Last of the Mohicans (1992), and in the Academy Award-nominated films Geronimo: An American Legend (1993) Other films he's appeared in are Heat, Mystery Men, Avatar, A Million Ways to Die in the West, and the television series Penny Dreadful.
Wes Studi was a presenter at the Inaugural Native American Music Awards in 1998 and has was the host of the 12th Annual Native American Music Awards where he also performed.
Watch his Oscar appearance here.