"

A Native American music revival has been taking shape, with releases, sales and airplay increasing substantially... and the New York-based Native American Music Association have lobbied the recording academy for a Native American category since the mid-1990s. "
— Knight Ridder Newspapers
ROBBIE ROBERTSON: 
INSPIRATIONAL ICON AND ONE OF MUSIC'S GREATEST STORYTELLERS
 JOURNEYS ON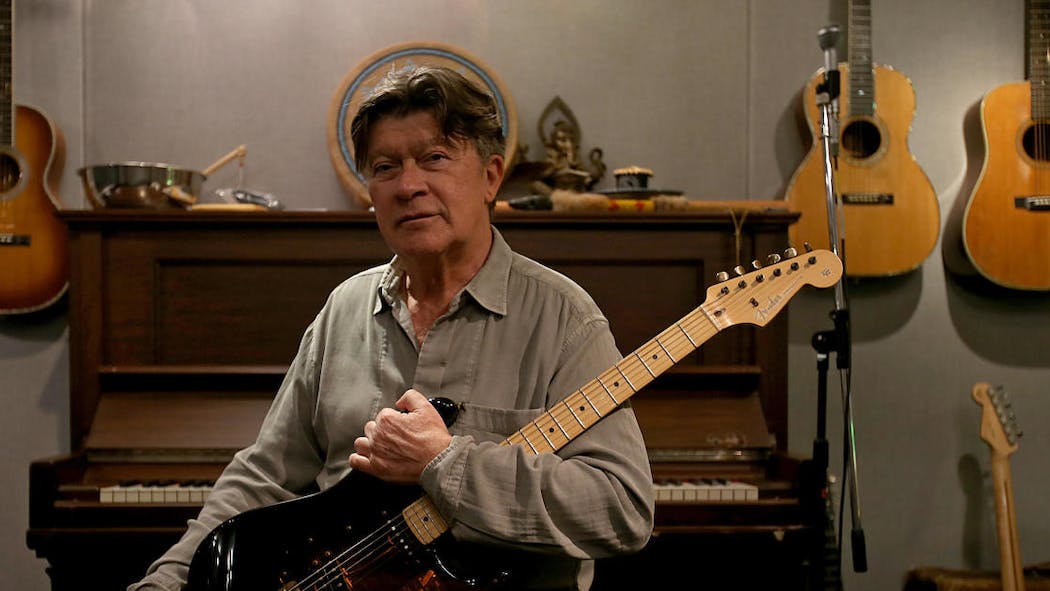 Robbie Robertson (Mohawk), most recognized for leading the 70's rock group, The Band, and his work with Bob Dylan and Martin Scorsese, who also was a leading collaborator and producer for Native American music, has sadly passed away after a long illness on Wednesday August 9, 2023 at the age of 80. 
Formed in Toronto, Ontario in 1967, The Band was a Canadian-American rock band consisting of Canadians Rick Danko, Garth Hudson, Richard Manuel, Robbie Robertson, and American Levon Helm. The Band combined elements of Americana, folk, rock, jazz, country, and R&B, influencing musicians such as; George Harrison, Elton John, the Grateful Dead, Eric Clapton and Wilco. Robertson and The Band were inducted into the Juno Hall of Fame in 1989 and the Rock and Roll Hall of Fame in 1994. 
Following The Band, Robertson went on to enjoy a successful solo career, with six solo albums including two featuring Native American musicians. In 1998, at the inaugural Native American Music Awards, Robertson performed live and was honored for his Lifetime Achievements. His recipient speech can be seen here: https://youtu.be/-UeAliaZ5gU 
Jaime Royal "Robbie" Robertson was born on July 5, 1943. His mother was Rosemarie Dolly Chrysler, a Cayuga and Mohawk woman who was raised on the Six Nations Reserve southwest of Toronto, Ontario. Robertson was an only child who became a self taught musician. At an early age, he began learning guitar from relatives during his summer visits to the reservation.
He would go on to write classic hit songs as an inventor of the Americana music genre, create music soundtracks and earn numerous accolades and awards.  Robertson was not only the primary songwriter and guitarist for The Band who penned classic hits such as; "The Weight," "The Night They Drove Old Dixie Down," "Up on Cripple Creek," and many others, but he was also a pathfinder for Native American music.  
In 1994, Robertson returned to his Mohawk roots, forming a Native American group the Red Road Ensemble for "Music for the Native Americans", a collection of songs that accompanied a PBS television documentary series.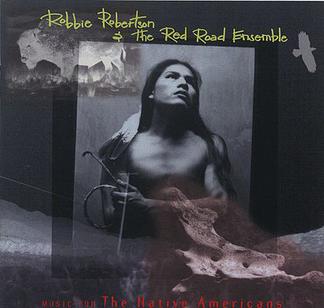 In 1995, Robbie Robertson performed at the "In Unity Concert", live in Agrigento-Sicily, Italy with the Red Road Ensemble and other special guests including John Trudell and Buffy Sainte-Marie. The concert was broadcasted on Italian TV. https://youtu.be/mKbX4q5IbR8
In 1998, he released a follow up solo recording entitled,  "Contact from the Underworld of Redboy" which took a closer look at native music traditions. The album's title comes from an experience when Robertson was referred to as "Red Boy," by several bullies when he was a child.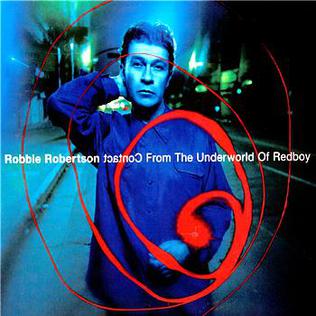 During the production and release of both those solo albums featuring Native American musicians such as; Kashtin, Ulali and Primeaux and Mike, who later won a Grammy Award, Robertson also supported the formation of the Native American Music Association.  Founded by Ellen Bello, the Association created the first Awards show honoring Native American musicians.  
In May 1998, Robbie Robertson appeared and performed live at the Inaugural Native American Music Awards show in May 1998 at Foxwoods Resort Casino and was honored with a Lifetime Achievement Award.  In his recipient speech, he stated, "To me this is a sign of the times, a sign of the acceptance of Native American music out in the world like never before." He also encouraged the continuation of honoring "the original roots music of this country" by other organizations such as the Grammys. https://www.youtube.com/watch?v=-UeAliaZ5gU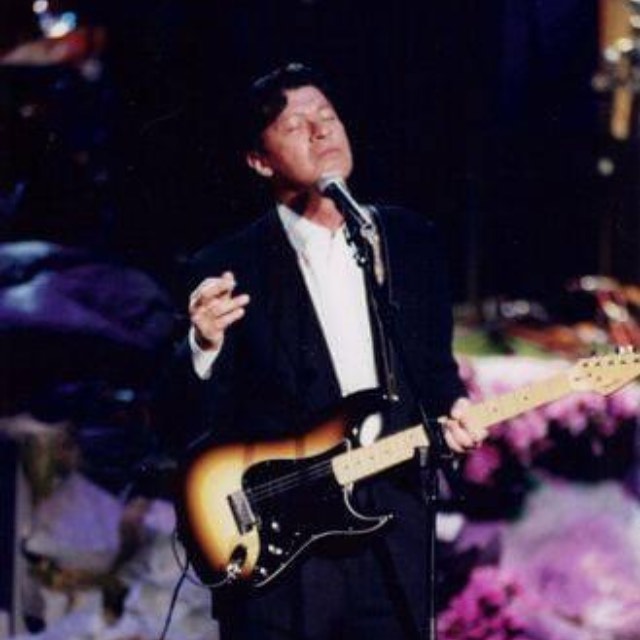 In February 2001, Robbie Robertson presented the first Grammy for Best Native American Music Album with actor Val Kilmer following the efforts of the Association's successful proposal to have Native American music recognized by the Grammys. In his presentation, Robertson also decried the continued imprisonment of American Indian Movement activist Leonard Peltier before announcing the winner as "Gathering of Nations", a compilation album featuring over two dozen drum groups.
Prior to his death, Robertson had just completed soundtrack work on Martin Scorsese's soon to be released "Killers of the Flower Moon" movie, marking their 14th film music collaboration together. The film, due out in October is about members of the Osage Native American tribe of Osage County, Oklahoma, who are murdered after oil is found on their land, in the 1920s. .Robertson also worked on Scorsese's "Wolf of Wall Street", "Gangs of New York", "Casino" after The Band's legendary 1976 farewell concert that was made into a 1978 documentary, "The Last Waltz".  In their final concert, The Band was joined by more than a dozen special guests, including Paul Butterfield, Eric Clapton, Neil Diamond, Bob Dylan, Emmylou Harris, Ronnie Hawkins, Dr. John, Joni Mitchell, Van Morrison, Ringo Starr, Muddy Waters, Ronnie Wood and Neil Young. Filmed by director Martin Scorsese, it has been hailed as one of the greatest concert films of all time. Robertson's personal story with The Band was also captured in the 2019 documentary "Once Were Brothers."
Following the announcement of his death, Rolling Stone called Robertson, "A Master Storyteller". The NY Times referred to him as a, "Songwriter who captured the American spirit". Scorsese remembered Robertson as "one of my closest friends, a constant in my life and my work." Founder of the Native American Awards and Association (NAMA), Ellen Bello, called him an "Inspirational Icon."  She credits Robertson with the early endorsement of her organization's formation and for launching the careers of other musicians.  She stated, "Without Robbie bringing Indigenous artists and their music to the forefront of the recording industry, and without his unrelenting public support, I'm not certain any of us would have been as successful or sustained the challenges we faced during our formative years. We are all forever indebted to Robbie for his belief, support and the inspiration he provided.  He will be forever missed ." 
According to an announcement from Robbie Robertson's manager of 34 years, Jared Levine, "Robbie was surrounded by his family at the time of his death, including his wife, Janet, his ex-wife, Dominique, her partner Nicholas, and his children Alexandra, Sebastian, Delphine, and Delphine's partner Kenny. He is also survived by his grandchildren Angelica, Donovan, Dominic, Gabriel and Seraphina. In lieu of flowers, the family has asked that donations be made to the Six Nations of the Grand River to support a new Woodland Cultural Center." 
ROBBIE ROBERTSON'S NATIVE AMERICAN MUSIC RECORDINGS:
MUSIC FOR THE NATIVE AMERICAS:
Released on Capitol Records in 1994, Music for The Native Americans is an album by Robbie Robertson and other colleagues billed as the Red Road Ensemble for the television documentary film, The Native Americans. The album was Robertson's first foray into writing music specifically inspired by his Mohawk heritage. Robertson's son Sebastian Robertson played the drums on "Golden Feather", "Skinwalker", "It Is a Good Day to Die" and "Words of Fire, Deeds of Blood". His daughter Delphine Robertson sang  backing vocals on "Coyote Dance" The album was compiled as a soundtrack, being credited to a variety of musicians including; Jim Wilson, Dave Pickell, Ulali; Pura Fé, Soni Moreno, Jennifer Kreisberg, Kashtin: Florent Vollant, Claude McKenzie, Walela; Rita Coolidge, Priscilla Coolidge and Laura Satterfield, The Silvercloud Singers, Dave Carson and  Bonnie Jo Hunt.
The Native Americans was a three-part American television documentary miniseries that premiered on TBS on October 10, 1994.The remaining two episodes aired on October 11 and 13, 1994. The six-hour series explored the history of Native American cultures, with each hour of the series devoted to a particular region of the United States.
CONTACT FROM THE UNDERWORLD OF REDBOY
Contact from the Underworld of Redboy is an album by Robbie Robertson released in 1998 by Capitol Records. The album is composed of music inspired by traditional Aboriginal Canadian and North American Indigenous songs and chants, as well as modern rock, trip hop, and electronica, with the various styles often integrated together in the same song. It features many guest artists with Robertson including;  Joanne Shenandoah, Tim Gordine, Leonard Peltier, Marius de Vries, Six Nation Women Singers, James Bilagody, Verdell Primeaux and Johnny Mike.  The album peaked at No. 119 on the Billboard 200.
In Loving Memory of The Voice of NAMA
Donald Blackfox 
by Donald Kelly, NAMA Executive Director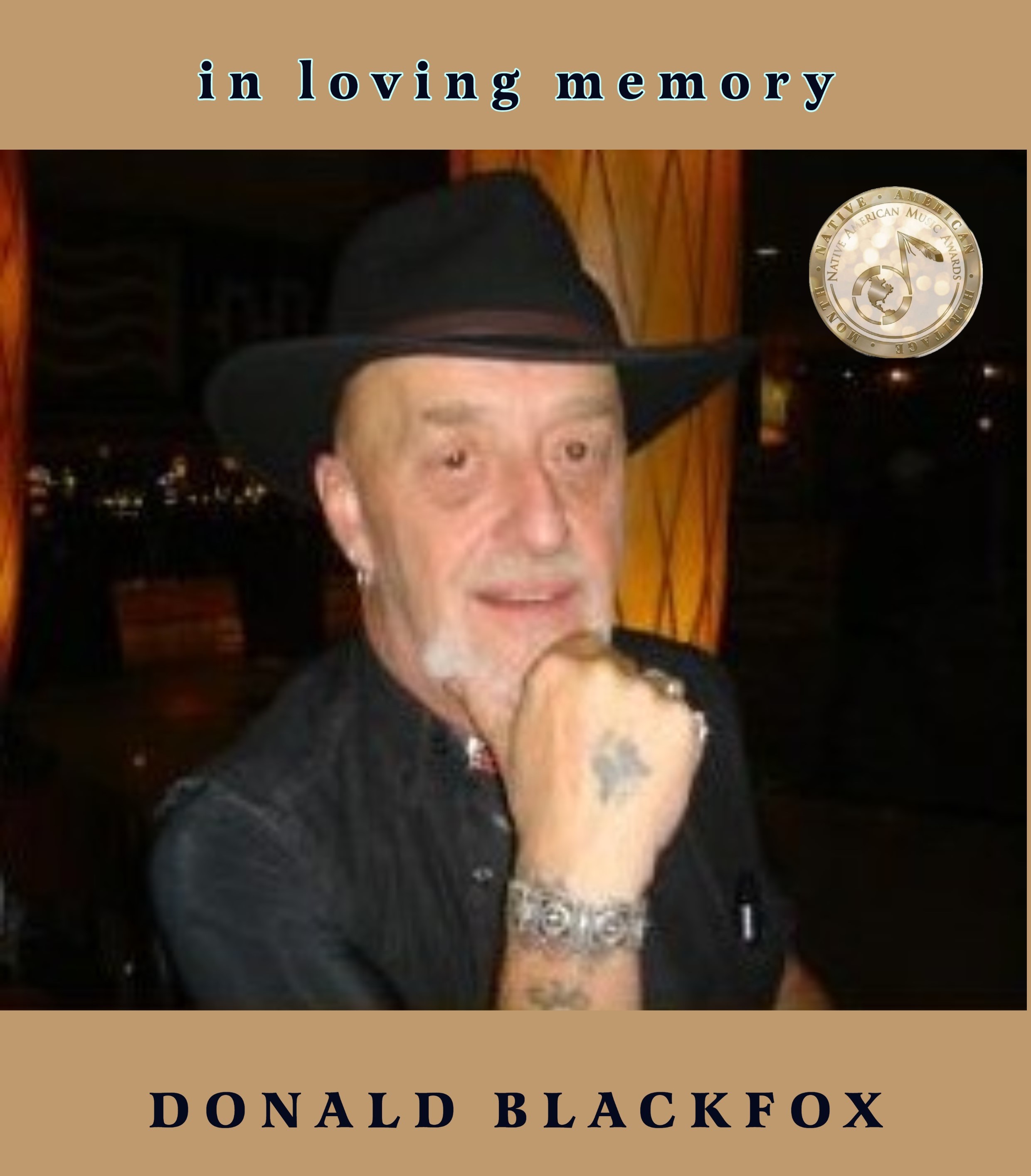 Born April 7th 1945, Donald Blackfox, CEO of Spirit WInd Records and singer/drummer of the Thunder Hawk Singers has died at the age of 78 years old on August 11, 2023. His drum group, The Thunder Hawk singers won Best Historical Album in 2009. Donald also served as the voice over, or "Voice of God'', for the Native American Music Awards from the 11th Annual Awards show in 2009 thru 2015.  With his record label and promotion company, Spirit Wind Records, based in Pulaski, New York, Donald strove to produce and promote a variety of  artists spanning  such musical genres as; traditional drum, flute, country, folk, new age, and "native heart" including; Sayani, Jonny Lipford, The Storytellers and the multiple award winning group, Spirit of Thunderheart.  Spirit of Thunderheart's lead drummer, singer, and producer, Donna Coane, who founded the all women's drum group in late 2011, announced Blackfox's passing. "With hardness and sadness our beloved Donald Blackfox has dropped his robe this morning. Donald is up in the spirit world with the others before him. I know he is saying hello to many, drumming and singing. Donald will be greatly missed." 
Donald Kelly, Executive Director of The Native American Music Awards fondly remembers Donald Blackfox…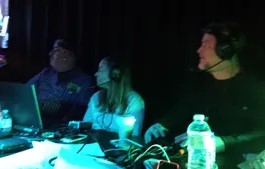 We are all lucky in life when we meet great people. Donald Blackfox was exactly that. He was one of the great ones. I remember meeting Donald Blackfox at a Pow Wow event in New Hampshire. It was Y2K... thats right, the year 2000. He was hanging out with a group of people and we ended up talking about music.  Earlier that year, Native American Music Association Founder, Ellen Bello, had put me on a path full of everything great. A Life's Journey. Meeting people like Donald was an every day event.  She steered me right to Donald whether she knew it or not. That's just Ellen. She had a great way of putting people together and that's how I met Donald Blackfox. We would continue to go to events and of course, we would talk to so many great people. All while I was learning about the Native American culture and music. Donald had a lot of wisdom. And he had a very fun way to share his stories. 
The more people I met, the more I learned that Native Americans truly loved music and that their reach is well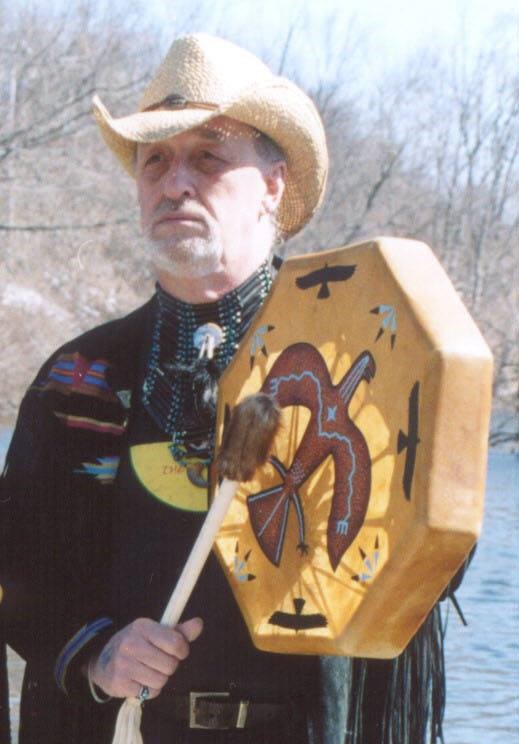 beyond what anyone could imagine. The more events I went to, the more Donald would show up in our life. Donald loved to meet new people. He also had this great niche of "Gifting people new Spirit Names". He always seemed to "Hold Court" in the Lobbies and Coffee Shops of many hotels and resorts where we produced the Award Ceremonies too. People loved to gather with Donald and listen to his great stories.
But I guess it wasn't until myself and NAMA Director, Andy Anderson, took a trip on a NAMA Mission down to Kentucky to formally meet Patrick Doyle and Donald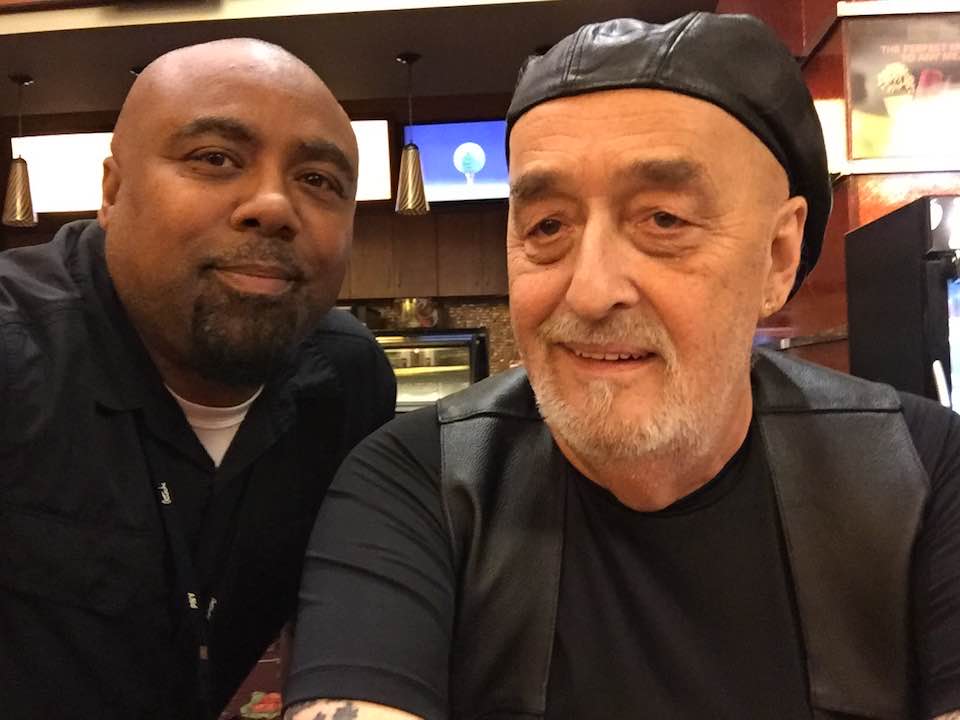 Blackfox. We finally got to sit down and talk about the current music and the new digital world that was becoming more and more accessible to Native Artists because of Donald and Patrick. These guys were building websites truly favored around Native Music. I will say this…We had a really good time down there in Kentucky. Can't tell you everything about that trip but it was a good one. Just ask Andy....
Donald moved back to the Northeast and worked tirelessly to help artists. He was part of the greatest years in the Native Music business. Native American Artists were finally seeing some hope and began thriving as performers.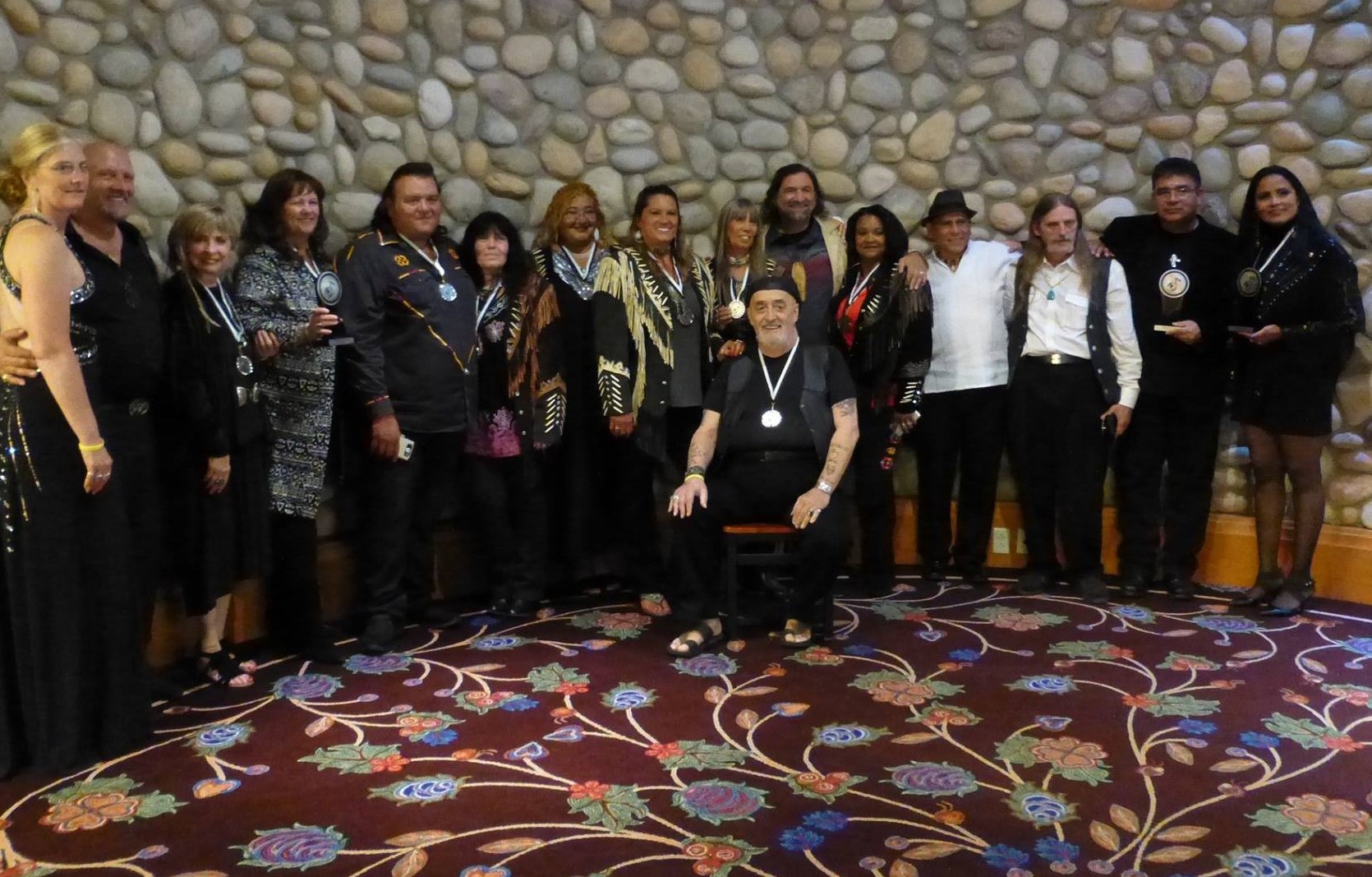 He was so motivated to keep pushing his label, Spirit Wind Records. Donald was relentlessly creating a place where the artist can get everything from exposure, creativity and of course, his life lessons. He would help anyone; big bands or simply young solo artists looking for a start. Donald was part of the crusade. He was there and he held his own special place amongst our Industry. 
In the year 2007, Ellen Bello pitched a special  event to me. It turned out to be one of the most amazing moments in my life. Through the Native American Music Association, a 501c3 non profit organization,  we created and produced a special night of Native American Music to help heal and entertain the many children receiving Cancer treatment at the Ronald McDonald House in New York City. These young children were receiving treatment and recovering at the Ronald McDonald House with their families. Young children fighting cancer is an unimaginable concept for any parent or human for that matter.  But here at the Ronald McDonald house, this was a place where Hope happens. It was a major eye opener for me. I talked to Donald about this event and without batting an eye he jumped right in. He helped put together his drum group and supplied the sound for the show. Watching the children enjoying themselves and listening and dancing to music was tremendously heartwarming. Taking their parents away from their difficult life, if only for just one song, was unforgettable. Donald and his great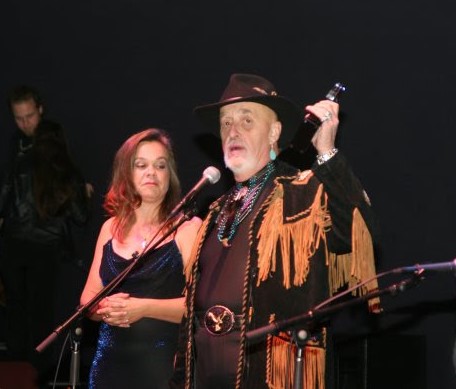 friend Phil helped us put a show together that night that entertained many. Parents, children, nurses and Doctors all sat and watched and experienced the magic of our music. I remember seeing Roberto from Yarina. Of course, the beautiful Jana was there too. I remember sitting back watching the performances with Stephan Galfas, an industry veteran as far back as Motown days, and us watching Donald and saying "How does this guy keep going? "
OK, here is the best part for me. We needed a new live voice over for the upcoming annual awards ceremony. I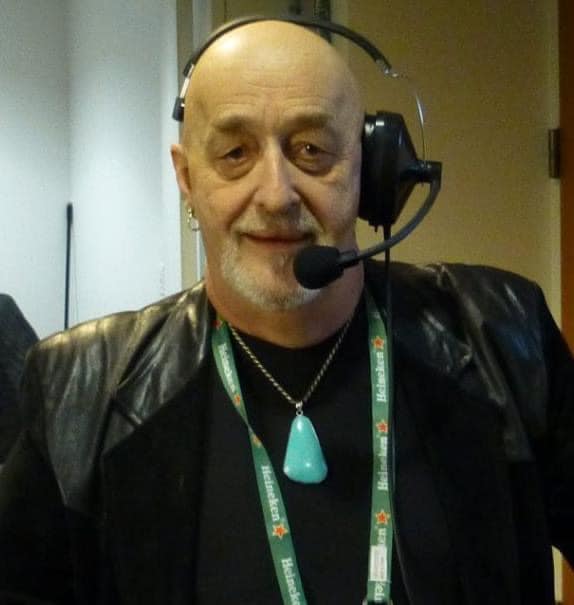 remember talking about this with Ellen and telling her let's give Donald a shot. Donald had a great deep, deep, deep voice pitched perfectly for live show Voice Over. He was also fast on his feet to correct mistakes. At one Awards show, I remember Donald messing up the intro of one of our great artists, Skylar Wolf, who we also recently lost.  Donald introduced him as Skylar Wuss. He said it emphatically too. Skylar was very intense and one of the most unique performers I ever watched. I thought Skylar might come backstage and kick Donald's ass for mispronouncing his name. But in true Donald fashion, he corrected himself right after Skylar's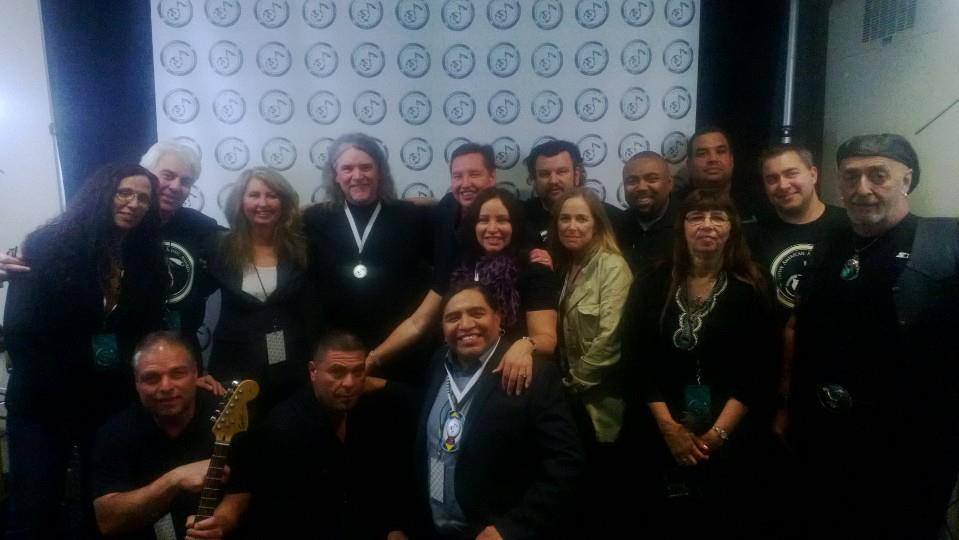 legendary performance.  There's a lot of pressure being the Voice Over. It's live and there is no going back after you make a mistake. And that's when I penned Donald Blackfox "The Voice of NAMA". We worked together for many more events. Donald never simply just showed up for work. He showed up prepared and full of great wisdom. He was a huge asset to the Native American Music industry. The people he helped were endless. He never needed acknowledgement. He always had a smile and a joke to pass along. Again, Donald never asked for anything. He was always all in on projects and shows. 
Donald Blackfox was an amazing man. I know that he is in the spirit world where he is helping even more people. Maybe he's reintroducing Skylar Wolf on stage correctly there. And, he probably is having to explain where he came up with all those crazy spirit names!  But, I know I speak for many when I say Donald was NAMA Family. 
Donald was and will always be "The Voice of NAMA". 
Donald was truly loved by so many. 
You know I will see you again my brother, We love and we miss you. I am fighting tears thinking of you. RIP Donald BlackFox.
Your Friend,
Donald Kelly
Executive Director
Native American Music Association
EDDIE THREE EAGLES WALKS ON
Eddie Three Eagles of Colorado Springs, Colorado, a Mescalero Apache and Cherokee whose tribes are centered in New Mexico and Texas, has passed on.   Eddie Three Eagles was born in the shadow of the majestic Pikes Peak in central Colorado on the sacred land where many ancient tribes came to pray and pay tribute to their Maker. Eddie grew up on the Mescalero Apache Reservation where his Grandfather taught Eddie the ways of his ancestors. It was here where Eddie Three Eagles was first introduced to the melodies of the flute. Captivated by its entrancing sound, young Eddie spent many hours of many evenings sitting alone, under the stars, developing the ability to express  the emotions of his people through his music.
Recently, Eddie returned to his birthplace in Colorado Springs, Colorado. When he was not traveling around the country sharing the beauty of his music, he devoted much of his time bringing love and compassion to the underprivileged children of all races. Eddie's spirit was at its most radiant when he visited hospitals and brought smiles to the faces of children with Downs Syndrome. He also felt very
deeply about retaining and preserving the integrity of original and traditional Native American music. Afterall, this is the music of his heart, the music taught to him by his Grandfather who learned from his Grandfather.  Eddie Three Eagles is a spiritual leader and sun dancer who records his music only after a ritual of singing and prayers while waiting for musical instructions to be given by his spirits. The music of Three Eagles is not designed to be the slick, studio produced music. Instead, it is from deep inside and reflects the thoughts and emotions of the Native people of generations past. 
In 2002 and 2003,  Eddie shared in Award wins as a contributor to Felipe Rose's award winning recordings; "Trail of Tears" for Best Historical Recording and "We're Still Here" for Best Song/Single of the Year.
Deeply spiritual and moving, Eddie released his debut CD, in 2006, entitled "Red, White & Blue" which
was a blend of traditional flute along with drums and chants which was nominated by the Native American Music Awards. Two selections included modern instrumentation applied in the same manner that would have been used over 100 years ago had the technology been available.
In 2007,  Eddie Three Eagles recorded and released his second nominated album
entitled, "Forgotten Warriors" on  Manitou Records.  He was also respectively among the frequent participants at a Colorado Springs Native American Inter-Tribal Powwow and festival in that central Colorado city.
After suffering a long illness Eddie Three Eagles passed away at his home with his wife Nancy Jo Chavez by his side.  He leaves behind many children and grandchildren including his adopted son, Award winner, Felipe Rose and former member of the Village People.
A private ceremony will be held for Eddie Three Eagles this week later this week
NATIVE AMERICAN MUSIC ROCK ICON MAC SUAZO OF XIT JOURNEYS ON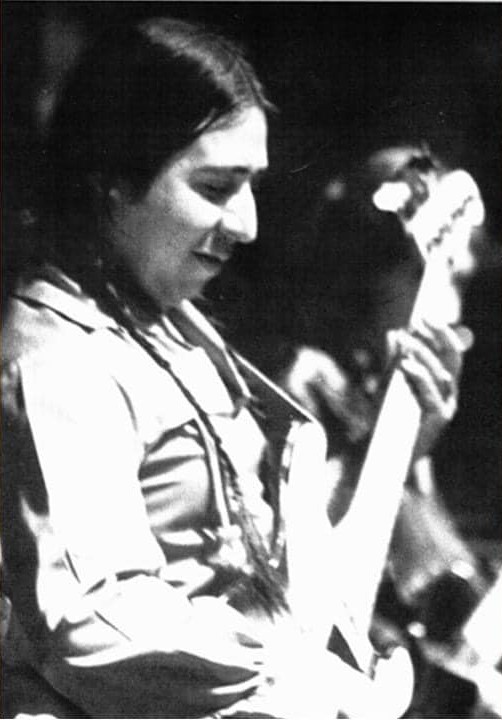 The Native American Music Awards sadly shares the news of the recent passing of XIT co-founder and bassist, Jomac "Mac" Suazo (Taos Pueblo). Suazo passed away unexpectedly at his home on Christmas Eve. A memorial service is being planned for him later this week in Albuquerque, New Mexico.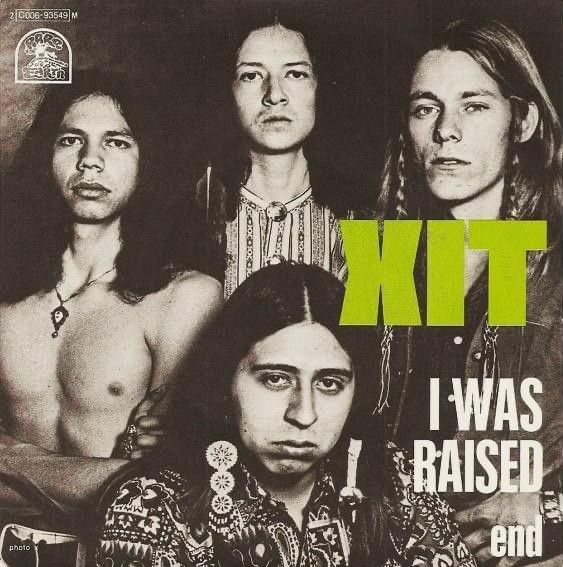 Jomac "Mac" Suazo was the bass player of the bands;  Lincoln St. Exit, XIT and later, eXit with The Ox Boyz. Suazo became most legendary for his work with XIT whose music still resonates among Indigenous peoples throughout the country. XIT, which stood for Crossing of Indian Tribes, was originally formed as Lincoln Street Exit in the early 1970s at Valley High School in Albuquerque, New Mexico. Founded by Mac Suazo, narrator and bass, A. Michael Martinez, singer and lead guitar, Lee Herrerra on drums, and R. C. Gariss, second lead guitar, the band then shortened their name to XIT and would go on to become one of the first and most influential Native American rock bands in history.
Suazo, along with A. Michael Martinez, Lee Herrerra, and R. C. Gariss were then joined by Tom Bee and released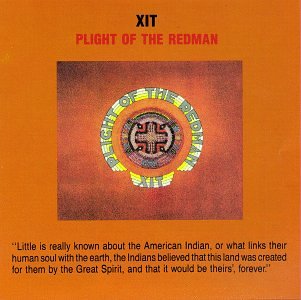 several groundbreaking albums. Their debut recording, "Plight of the Redman," was released in 1972 on Motown Records. It was a concept album chronicling the changes in Native American life since the arrival of Columbus.  The recording was the first of its kind to combine traditional and electric instrumentation along with chanting and Native dialogue. Their followup, "Silent Warrior" was their second release on the label in 1973 in which Suazo co-wrote two of the songs. The album came at the height of the Wounded Knee takeover in South Dakota, and XIT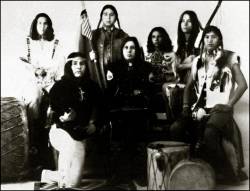 quickly became labeled by the media as the musical ambassadors of the American Indian Movement. Both albums brought national attention to the brutal conditions on Indian reservations and colonialism's effect on Indigenous peoples. XIT quickly rose in popularity, went on to tour internationally, and inspired young Native musicians across the country.  
Subsequent recordings were released and lineups of the group would eventually change. The band featured other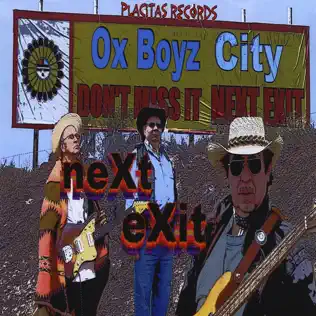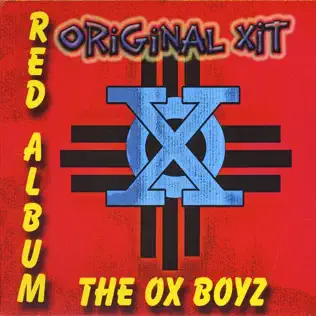 musicians such as;  Obie Sullivan (keyboards), Willie Bluehouse Johnson (Lead guitar) P.J. West (Drums, percussion to include timpani), Louie Running Wolf (bass guitar), and Jim Boyd (lead guitar).  Tom Bee left the group to write and produce for Motown and eventually formed his own record company, Sound of America Records which would rerelease XIT's recordings; "Plight of the Redman," "Silent Warrior", "Relocation" and a reunion CD, "XIT: Without Reservation".  Mac Suazo and A. Michael Martinez continued to record and perform as eXit. The band released six more full length recordings; "eXit From the REZ" (2006), "No eXit" (2007), "eXit nOw" (2008), "neXt eXit" (2009), "The Red Album" (2010) and "Forty Years" (2011). 
In 1999, XIT performed at the Second Annual Native American Music Awards and were honored with a Lifetime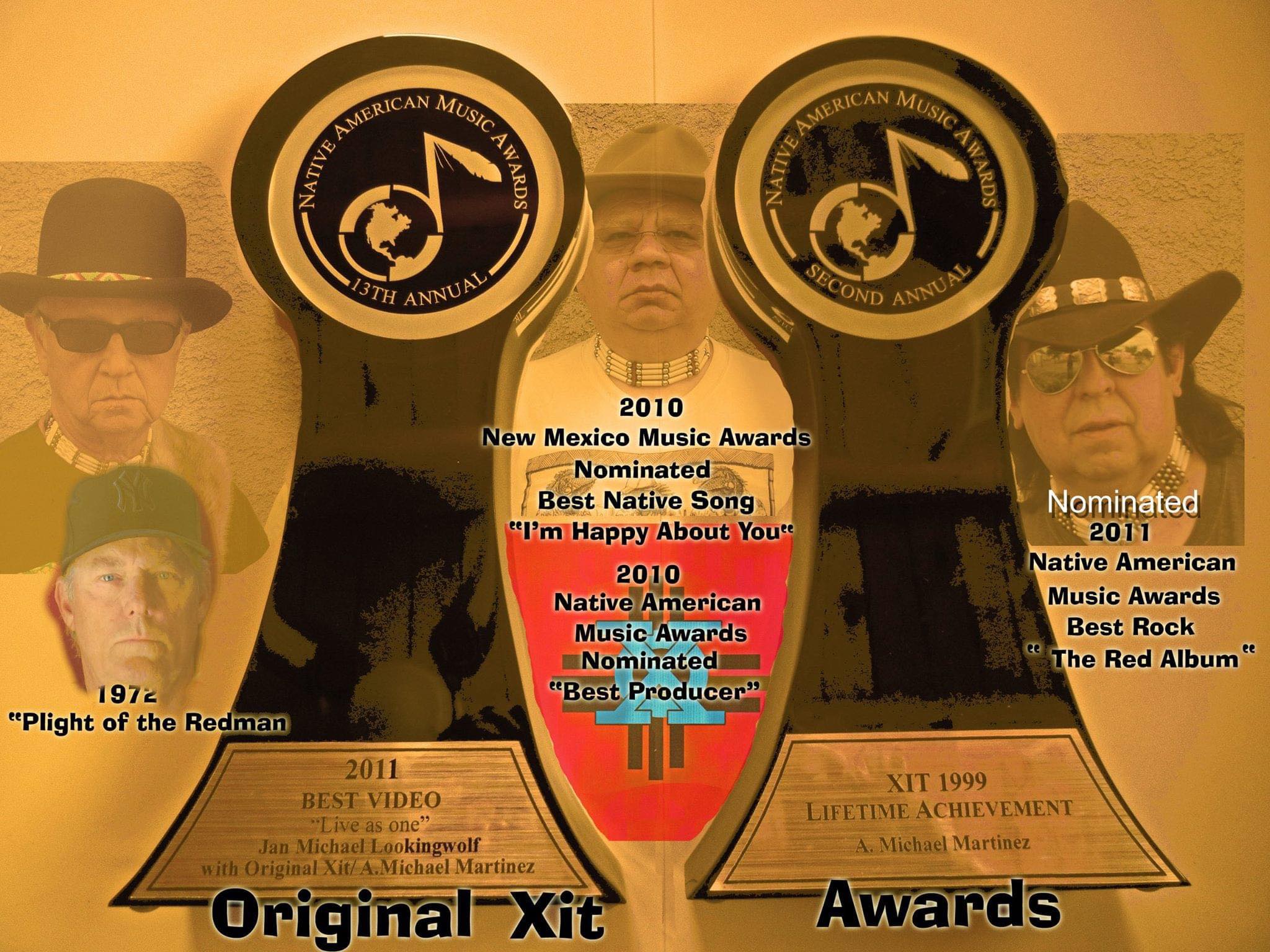 Achievement Award. At the 2010 Native American Music Awards, Mac Suazo, Lee Herrera and A. Michael Martinez participated as both nominees and special guest presenters.  Mac, along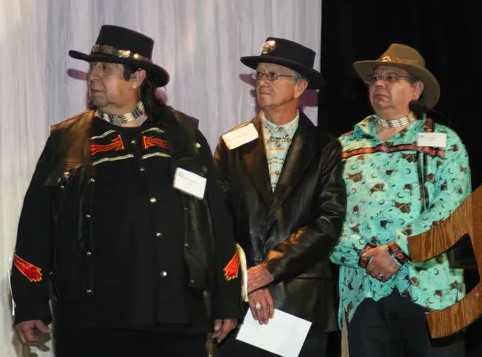 with The Ox Boyz and original XIT members A. Michael Martinez and Lee Herrera performed in a music video recording collaboration of Jan Michael Looking Wolf's song, "Live As One", an international message of hope, healing, and unity from the Native American music community. https://youtu.be/d2UpToByjfw  They would share in the win for Best Music Video that next year,  in 2011.  In 2016, Mac and XIT received a New Mexico Hall of Fame award and are listed as Hall of Fame recipients from the New Mexico Music Commission. 
"Mac never stopped promoting Indigenous music or the idea that the music was meaningful and critical in making sure that history did not repeat itself" says his bandmate, A Michael Martinez who first met Suazo in 1966. Murphy Platero of The Platero's simply called him, "a music legend".
Mac was the oldest of four brothers of Josie and Maclovio Suazo. He always had a passion for music while jamming with his brothers growing up. After sharing in the success of XIT, Mac eventually left life on the road to settle down and return to his family.  Tragically, after suffering the loss of his young wife, Della in an accident, he was forced to raise his two small children as a single parent. 
He leaves behind his children, Mathew, Marthann, and Star, and three grandchildren who will miss him dearly. There is a gofund me campaign to assist with Mac Suazo's funeral arrangements and final resting place at Sunset Memorial Park in Albuquerque, New Mexico.   https://gofund.me/52c50682
Mac will be greatly missed by all and will be forever remembered as a Native American Music Rock Icon. Journey well Mac.
AWARD WINNING BLUES PLAYER SKYLAR WOLF WALKS ON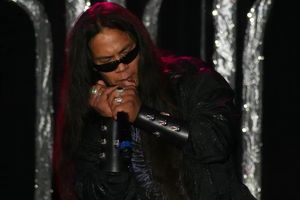 In a week already pummeled by profound losses, the Native American Music Awards sadly shares the news of the sudden passing of Award winner Skylar Wolf.  Accomplished Rock and Blues musician, slide guitarist and harmonica player, Skylar Wolf, Navajo, won Best Debut Artist at the Eleventh Annual Native American Music Awards in his original hometown of Niagara Falls, New York.  He was born & raised in Huerfano, New Mexico, had also lived in Los Angeles, and at the time of his passing was reportedly living in Santa Fe, New Mexico.
At the Eleventh Annual Awards ceremony, Skylar won Best Debut Artist  for his debut recording entitled, "Devil's Son". He gave a mesmerizing solo performance playing both steel and acoustic guitar at the Awards ceremony. He then gave a dueling performance with classical guitarist Gabriel Ayala. "It was great to collaborate with Skylar during that one performance. We broke stereotypes that night as Indigenous artists" Ayala recollected. "He was a very talented artist and I"m truly disappointed that we never crossed paths  again."
"He had the power and roar of a musical freight train" recalls Native American Music Awards President Ellen Bello. "His talent and intensity were undeniable." Skylar was personally committed to helping the less fortunate especially children and teens. During the holiday season he would hold toy fundraisers and give free concerts to benefit children and children's hospitals. His message was always one of hope and redemption. "A life free from addiction and suffering is a life of beauty and harmony" Skylar was once quoted as saying. May Skylar continue to walk in beauty and harmony among his ancestors.  The Native American Music Awards extends their deepest condolences and sorrow to the friends and family of Skylar Wolf.
www.NAMALIVE.com
AWARD WINNING FLUTE PLAYER AND HOOP DANCER
KEVIN LOCKE JOURNEYS ON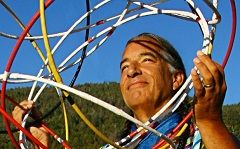 The Native American Music Awards regrets to inform our members of the passing of two time award winner, Kevin Locke. A world famous Hoop Dancer and preeminent player of the Northern Plains flute, Kevin was also a traditional storyteller, cultural ambassador, recording artist and educator. He was 68 years old. Of Lakota and Anishnabe heritage, Kevin's Lakota name was, "Tokaheya Inajin" which means "First to Rise".  Born in Southern California, Kevin moved north with his family at the age of five and later settled in South Dakota on the Standing Rock Reservation. It was from his mother, Patricia Locke, his uncle Abraham End-of-Horn, mentor Joe Rock Boy, and many other elders and relatives that Kevin received training in the values, traditions and language of his Lakota Sioux culture which he shared with the world. For 40 years, he performed live to hundreds of thousands of people in over 90 countries at various performing art centers, festivals, universities, national parks, powwows and concerts.
His special joy was working with children on the reservations to ensure the survival and growth of indigenous culture. His goal was to empower today's youth in culture and "raise awareness of the Oneness we share as human beings."  His belief in the unity of humankind was dramatically expressed in his traditional Hoop Dance which illustrated "the roles and responsibilities that all human beings have within the hoops (circles) of life". "Through my music and dance, I want to create a positive awareness of the Oneness of humanity," he reflected.
Since 1982, Kevin has recorded twelve albums of both music and story-telling, including; "Earth Gift" which was awarded Record of the Year in 2009 and "The First Flute" which was won Best Traditional Recording" in 2000 by the Native American Music Awards. "Earth Gift" was a breakthrough recording and produced by two-time Grammy winner Tom Wasinger. It featured traditional Lakota songs played on flute by Kevin and arranged in a vibrant contemporary world music setting. "First Flute" was recorded outdoors at Sitting Bull's camp on Standing Rock Lakota Reservation. The album  has been described as "the ultimate presentation of American Indian flute, heard as it first was among the birds, wind, and waters of the Dakotas."  
Kevin's live performances usually consisted of flute playing and singing Lakota songs, as well as demonstrations of the Sioux hoop dance, using 28 wooden hoops. Of his performances, Locke has said "I see myself strictly as a preservationist. I base my repertoire on the old songs. I try to show younger people what was there, and maybe some of the younger people will pick up from there and compose new music."
Locke served as cultural ambassador for the United States Information Service since 1980, was a delegate to the 1992 Earth Summit in Brazil and was a featured performer and speaker at the 1996 United Nations Habitat II Conference in Turkey. In 1990, he won a National Heritage Fellowship from the National Endowment for the Arts, the highest award granted to such traditional artists. In 2009, he won the $100,000 Bush Foundation Enduring Vision Award. Only three weeks ago, Locke performed at Marian Auditorium on the campus of Mount Marty University in Yankton, South Dakota. 
On his passing, flute player and hoop dancer, Tony Duncan commented, "The world will not see his likes again.  Be with your ancestors now." John Two Hawks said, "Kevin Locke was an icon in the Native American flute world, and was one of the earliest players to introduce the instrument to non Native society. Kevin was also a prolific hoop dancer, who shared lessons of history, culture and healing wherever he went." Singer/songwriter and flute player Cody Blackbird gave Locke credit for his own artistry and one of his great influences on why he performs and records today. "He's a huge piece of all of this for me. What he did for our communities, our language and our culture, well, that's a whole other story," Blackbird stated.  "He had a simple humility and love for the people."  Cody Blackbird will be leading a tribute for Kevin Locke at this year's Native American Music Awards on November 19th in Niagara Falls, NY.
Kevin Locke was undoubtedly one of the greatest flutists, hoop dancers and teachers the world had ever seen. He will be greatly missed. The Native American Music Awards would like to extend their deepest condolences and sorrow to his family.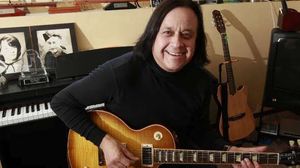 Award Winning Musician and Visionary Founder of Eagle & Hawk and Indian City Vince Fontaine, Journeys On 
Musician, composer, and producer, Vince Fontaine died suddenly this week of a heart attack. Seemingly vibrant and healthy, Fontaine was last publicly seen performing live in a video of the song, "Star People" for a friend just one day prior to his death. His passing has left the North American Native American music community in shock. The visionary co-founder of Eagle & Hawk and the folk-rock group Indian City. died this week after suffering a heart attack, confirmed Jay Bodner, his bandmate of 25 years. Fontaine was 60 years of age. On Sunday, January 16th, a celebration of life ceremony was held in his honor in Winnipeg, Manitoba, Canada with performances by the Walking Wolf Singers and some of Vince's vast musical family. "Vince was an incredibly talented and highly influential musician and a kind person who befriended many. Our entire North American Music Community is greatly impacted by this loss," stated Ellen Bello, Native American Music Awards President and Founder. Fontaine's lifelong career is celebrated with accolades of awards and recognition. Fontaine founded two multiple award-winning bands; Eagle & Hawk, and a second collective group, Indian City. He was awarded a total of four Native American Music Awards; two for Best Rock Recording with Eagle and Hawk in 2006 and again in 2009; and with Indian City for Best Instrumental Recording (2011);  and Best Music Video Performance (2018). To date, Eagle & Hawk has received a total of 75 nominations and over 30 wins at other awards ceremonies including a prestigious Canadian Juno Award. In 1994, guitar player Vince Fontaine, teamed up with Winnipeg's Troy Westwood, to form the basis of what would become one of the most celebrated and internationally recognizedIndigenous-rooted rock band, Eagle & Hawk. Their debut album, The Dream, was released in 1997. However, Westwood left the band as he was unable to balance the band's touring commitments against his work as a football player for the Winnipeg Blue Bombers. He was replaced by Jay Bodner who would remain the band's frontman and lead singer for the rest of the band's career. Other musicians associated with the band have included; keyboardists Gerry Atwell, Jaylene Johnson, Will Bonness, and Rena Semenko; bassists Randy Booth, Jeff Monkman, Clint Adams, Lawrence "Spatch" Mulhall, D.J. St. Germain, and Tik Mason; and drummers Mike Bruyere, Brent Fitz, Steve Broadhurst, Kevin Radomsky, Marty Chapman, and Rich Reid. Eagle & Hawk has released multiple albums in the U.S. and Canada; including their debut album, The Dream (1997), Indian City (1999), Eagle & Hawk (2000), Mother Earth (2004), Life Is... (2005), Sirensong (2008), 20 Years Best of (2018), Liberty (2019), Sundancer 21 (2020) and most recently, Code Red, which was released just this past October. Eagle & Hawk have toured Europe and played some of the largest stages in North America including Capital Hill and the New Orleans Jazz Festival.  Vince Fontaine also used his many years of entertainment industry experience to become Festival Manager for the 2002 North American Indigenous Games Opening Ceremonies in Winnipeg and the Symphony Orchestra's Indigenous Festival. In 2011, Fontaine released his first solo effort entitled, Songs for Turtle Island, a record exploring Indigenous stories and themes alongside a fusion of Indigenous, contemporary and classical instrumentation. Continuing his own development as an artist, Vince Fontaine's Indian City, featured new sounds, and incorporated elements of contemporary pop, rock and electronic music alongside traditional Indigenous themes. He collaborated with other artists including; Don Amero, William Prince, Pamela Davis, and Neewa Mason for his collective project. Their 2012 album, entitled, Supernation, fused traditional aboriginal music with experimentally tinged folk rock. The album earned a Native American Music Award for Best Instrumental Album. Indian City's third album, Here & Now, was released in 2017 and the song from the album, "Through the Flood" won Best Music Video Performance from the Native American Music Awards. Later that year, Fontaine celebrated a licensing deal with APTN, Showtime and Sony Music. Vince Fontaine was a known champion of indigenous music and an avid supporter of other artists in Winnipeg, Manitoba and beyond. Fontaine's drive was propelled by his passion for sharing the beauty of Canada's Indigenous culture. Always with intent, his songwriting carried Indigenous stories, imagery and spirituality and connected traditional ideals with audiences of today. In addition to his musical presence, he has been recognized as a supportive community leader. Fontaine was also a regular in the annual JUNO Cup where NHL greats and Canadian musicians face off in a fun, competitive, non-contact hockey game in support of the music education charity, MusiCounts. But he will be most known as an Anishinaabe man and a member of Sagkeeng First Nation who loved his culture, his people, his family and his fellow musicians with strong traditional values of: honesty, love, courage, truth, wisdom, humility and respect. "It turns out the things that are important are still the same," Fontaine recently said. "Life will carry on. Vince's love for music was only outshone by his love and devotion to his family, friends, and community. Vince was predeceased by his father Henry (Manish); his sisters, Sharon, Shirley, and MaryCarole; and nephew Chauncey. Vince will be incredibly missed and his memory held dearly by his mother Nora (Nan); his wife and partner of 36 years, Dodi; his children, Aleah, Gabrielle, Joe; his brother, Larry; his nieces and nephews, Nahanni, Tonya, Talia, Shauna, Naomi, Robert, Justin, Zeb, Zal, and Zoe; his siblings-in-law, Steve and Nancy, Faith and Randall, and all of the Bell family. 
COUNTRY SINGER/SONGWRITER SHANE YELLOWBIRD GONE AT 42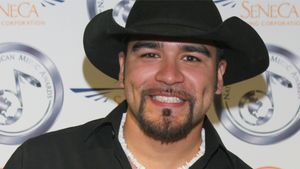 Award winning Country Singer/Songwriter, Shane Yellowbird, has died at the young age of 42. He was a two-time Native American music award winner for Best Country Recording. In 2011, he won for his debut recording, "Life Is Calling My Name" and in 2012, he won  for his second album,  "It's About Time".  His music video entitled, "Barefeet On The Blacktop" was also nominated for Best Music Video in 2009. He performed live at the 11th Annual Native American Music Awards hosted by actor Gil Birmingham. 
Shane Yellowbird (Cree) was born on July 7, 1979 in Hobbema, Alberta Canada.  To overcome his stuttering problem, Shane was encouraged to sing in sentences. His talent and vocal art soon launched a musical career. Louis O'Reilly, of O'Reilly International became his manager and signed Shane to his record label in 2003. 
"He had a tremendous voice and a tremendous charisma, and kind of a shyness and an 'aww shucks' bashfulness that people saw in him and gravitated to him for that reason," O'Reilly said. O'Reilly learned of Yellowbird's death Tuesday morning. The manager knew his former artist had epilepsy and sometimes suffered seizures, but he did not know how Yellowbird died. Tributes have been posted on social media since news of Yellowbird's passing.
In addition to his Native American Music Awards, Yellowbird won the Canadian Country Music Association (CCMA) Rising Star Award in 2007, and that same year he was nominated for a total of five awards. He was also nominated for a Juno in 2008 and would win three more CCMAs in his career. In Canada, Shane was best known for his song "Pickup Truck", which made him an immediate Canadian star. He was named Aboriginal Entertainer of the Year at the Aboriginal People's Choice Music Awards and had one of the 10 most played country music songs of the year.
No official word has been released as to the cause of his death. The Native American Music Awards & Association extends our prayers and condolences to his fiance, family and fans.
THE MOST HONORED AND CELEBRATED MUSIC MATRIARCH
JOANNE SHENANDOAH JOURNEYS ON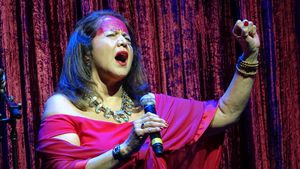 Native America's Musical Matriarch And Peace Maker Dies 
It is with deep sorrow and profound sadness that the Native American Music Awards & Association (NAMA) share in the outpouring of grief of our beloved friend, Lifetime Achievement honoree, and 14 time Award winner, Joanne Shenandoah, following the announcement of her passing.
On Monday, November 22nd approaching midnight EST,  Joanne Shenandaoh died at the Mayo Clinic in Scottsdale, Arizona following complications of abdominal bleeding and suffering a cardiac arrest. She was surrounded by her husband, Doug George-Kanentiio and daughter Leah.  
A member of the Wolf Clan of the Oneida Nation, of the Haudenosaunee Six Nations Iroquois Confederacy, Joanne Shenandoah was the most critically acclaimed and honored Native American singer since her debut recording in 1989 with, Joanne Shenandoah. She went on to record a total of 15 albums with numerous more collaborations. She has won a multitude of awards, including 14 Native American Music Awards, the most ever awarded to a singular artist, and a GRAMMY for her contribution on Sacred Ground: A Tribute to Mother Earth. She has earned two Grammy nominations for her albums, "Covenant" and "Peacemaker's Journey", an Emmy nomination for the PBS special "Native America," was inducted into the Syracuse Area Hall of Fame, and received an Honorary Doctorate of Music from Syracuse University in 2002. She was also an original board member of the Hiawatha Institute for Indigenous Knowledge, which operates in partnership with Syracuse University.
Just this year, Joanne released her last full length recording entitled, Oh Shenandoah available on Amazon.com. The 12 track recording features a collection of country infused songs along with a poignant dedication to Missing Murdered Indigenous Women (MMIW), "Missing You."   Joanne, with her daughter Leah and sister Diane, delivered an emotive and moving live performance with "Missing You", at her final appearance at the 19th Annual Native American Music Awards. As the Awards most decorated and honored artist with 14 Native American Music Awards, Joanne's accolades include: Best Children's Recording, Best Traditional Recording, Best Music Video, Best Producer, as well as multiple awards for;  Best Female Artist, New Age Recording, Best Compilation, Artist of the Year, Best Compilation.  She also sang backing vocals on a new song by singer/songwriter Jimmy Lee Young called, "Precious Light."
Over her five decade plus career, whether performing solo or with her musical trio featuring her daughter Leah and sister Diane, Joanne has graced the stages at; The White House, Carnegie Hall, Presidential Inaugurations, Madison Square Garden, The Smithsonian, Woodstock '94 and participated in the celebration of the canonization of Kateri Tekakwitha, the first Roman Catholic Native American saint in Rome, Italy. As a humanitarian and peace advocate, Joanne met and performed for such noted leaders such as his Holiness the Dali Lama, and Nelson Mandela.
Joanne's beautiful embellishing voice, strong Iroquois traditions, unequivocal elegance and courteous grace made her a prominent role model and highly respected musical Matriarch among Native American communities as well as the mainstream music community at large. She sang with deep roots from her ancestors and flawlessly incorporated her oral traditions into contemporary Folk, Country and Americana formats. She captured the hearts of audiences all over the world and always took time to encourage and inspire younger musicians in her travels. She made an incredible impact on this earth and has paved paths for so many.  The Native American Music Awards will continue to best ensure and preserve her legacy.  She will be greatly missed.
She is predeceased by her parents Clan Mother Maisie Shenandoah, Father Onondaga Cheif Clifford Shenandoah, predeceased by one brother Gerald Schenandoah, survived by her daughter Leah Shenandoah, grandson Ryder Shenandoah, husband Doug George, four sisters Wanda Wood, Diane Schenandoah, Victoria Schenandoah and Danielle Schenandoah and numerous nieces and nephews. Our sincerest condolences to her family.
Visit our photo gallery of Joanne's life in pictures at: https://nativeamericanmusicawards.com/galleries/896190/in-loving-memory-of-joanne-shenandoah-1958-2021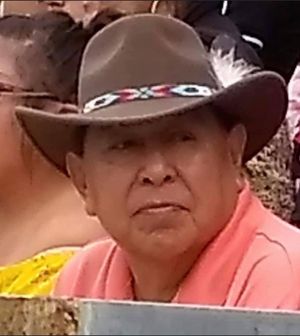 His last post stated....
TAKE THIS SERIOUS. DON'T TAKE IT FOR GRANTED. LET' US ALL PRAY TONIGHT - Fred Kaydahzinne
Fred Kaydahzinne was a full blooded Mescalero Apache composer, singer and storyteller who resided on the Mescalero Apache Reservation. Fred along with his son Bo Kaydahzinne and Sherman Blake are all descendants of the Great Apache Chief Cochise. Fred was an Apache Medicine Man known for his traditional songs. His medicine songs were popular on the Mescalero reservation and in Indian Country. Many of Fred's songs have been passed down through the generations from the great Apache warriors Geronimo, Cochise and Naiche. They have never been recorded before. Fred Kaydhzinne was also featured in the NAMA award-winning documentary special entitled, Homeland Nation hosted by Rickey Medlocke (Blackfoot and Lynyrd Skynyrd) and also featuring Houston Geronimo among others .
Apache Actor Jay Tavare who appeared in Street Fighter, Into The West, and CSI Miami said, " The Apache Nation lost a priceless gem today.... his Medicine songs were in demand on the Mescalero reservation and Indian Country for feasts almost daily. Freddie was an artist, singer and musician, a historian of his culture and a great husband and father. My deepest Condolences to Bo, his son and wife, Edith Kaydahzinne and all his immediate family. I share your pain. You are all in my prayers".
On November 9th, Fred Kaydahzinne's last social media post asked everyone to pray to fight COVID. He stated: "My Dear Tribal Members:. This virus is hitting us hard. We lost some people. I am asking each family to be in prayer tonight. Get together with your family and let them know we are losing our people, some are struggling and fighting for their lives in different hospitals. The virus has hit my home. I am praying. We also lost Harlyn Geronimo. I lost an aunt (Beverly). Take this serious, don't take it for granted. Let's us all pray tonight. Please share,"
We express our sincerest condolences to Fred's family and pray as he journeys on. In honor of the late Fred Kaydahzinne, we urge everyone to heed his last words. Please pray for him and all those fighting COVID.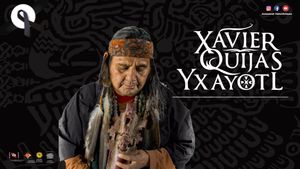 Maestro Xavier Quijas Yxayotl Walks On 
Xavier Quijas Yxayotl, the world's preeminent indigenous composer and musician of prehispanic Aztec & Mayan music, has passed away due to complications from surgery. Born in Guadalajara, Jalisco Mexico and of Huichol heritage, Xavier's indigenous name, pronounced (e-shy-oat) 'Yxayotl' is Nahuatl for 'tears'.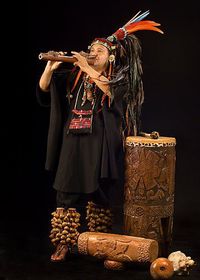 Xavier Quijas Yxayotl moved to the mountains of Jalisco and Nayarit, Mexico to live with his Huichol relatives and the Tepehuane people in the 70's.  There, he studied and learned to play pre-Columbian instruments while participating in ceremonies and rituals.  The knowledge he acquired enabled him to make museum quality instruments, such as, Mayan and Aztec drums, flutes, turtle shell drums, rainsticks, log drums, rattles, and gourds.  Yxayotl spent most of his life constructing and playing these instruments and performing all over the world.   
In 2004, he performed at the opening ceremony for the Nobel Peace Prize event in Rome giving blessings to the Dalai Lama, Michael Gorbachev and Jimmy Carter.  He also performed at the United Nations Gala in New York City in 2005.  In 2006, Mel Gibson purchased Yxayotl's clay flutes to be used in the soundtrack for the movie 'Apocalypto". Andre 3000 did a traditional flute apprenticeship under master flutemaker Xavier.  His extensive knowledge and wisdom in music and the ways of the ancient Americas, also led him to consult the History Channel.  His music can be found on Amazon, Pandora and Spotify and on YouTube where he has over one million and half subscribers.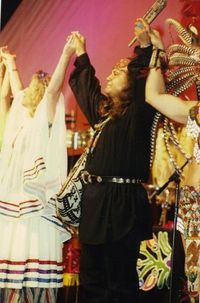 Xavier was honored to have had six of his seven CD releases nominated by the Native American Music Awards - two of them for Flutist of the Year. He performed at the Fifth Annual Native American Music Awards along with the international dance group, "Call For Peace".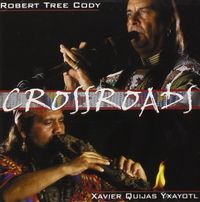 One of the nominated recordings was the landmark album entitled, Crossroads, which he collaborated with award winning artist Robert Tree Cody on Canyon Records. For the first time ever, the music of the native people of the Great Plains were recorded with the ancient music of Mexico into 12 amazing songs. Crossroads was a colorful blend of indigenous Native American, Mayan and Aztec flutes pulsing drums and ancient chants. 
 A visionary, Xavier Quijas Yxayotl, will be remembered as "The Maestro," and the foremost global authority on traditional Mayan and Aztec instruments. His expertly crafted flutes, Death Whistles, and ocarinas, made according to ancient manuscripts, will remain unmatched. He leaves behind a legacy in the way of ancient Mesoamerican music. Despite all his enormous accomplishments and an unfillable void his passing creates,  this gentle, kind, generous and humble man  will be greatly missed.