"

"The music of the Indian is the spontaneous and sincere expression of the soul of a people. It springs from our own continent, and is thus, of all music, distinctly American. If Indian song be encouraged with Indian, and recognition of it awakened among our own people, America may one day contribute a unique music to the world of art." "
— - Natalie Curtis, Musicologist
Association of Native American Music
"We celebrate our culture and survival through music and dance. With the increasing popularity of today's Native American music, The Native American Music Association is helping Native societies transform as our music provides a continuing capacity for community renewal and cultural enrichment."
-Ellen Bello, Founder & President of the Native American Music Association
The National Association of Native American Music was established in 1998 as a 501c3 to celebrate the rich music heritage of the nation's first people and educate the general public. The organization is committed to preserving the past and promoting the future of Native music culture. The Association is responsible for collecting and archiving Native American Music as well as honoring those highly esteemed artists in the music and entertainment arenas into the NAMA HAll of Fame. The Association also responds to Call to Actions from various tribal communities including: suicide prevention awareness, emergency heat, Christmas toy drives, and music instrument donations to veterans with PTSD.
THE NATIONAL ASSOCIATION FOR NATIVE AMERICAN MUSIC 
The Native American Music Association (NAMA) was founded in 1998 in New York, New York.  The Association currently consists of over 200 registered Advisory members and over 20,000 registered voting members.  The Association was the first national organization formed to promote the genre of Native American music culture to properly provide recognition for popular musicians and entertainers of Native American heritage. 
With the onset of the COVID-19 pandemic, our operations were temporarily halted from November 2019 thru November 2022 when we held our last awards. This past November, we were just barely able to resume operations with the assistance of an SVOG (Small Venue Operators) grant. With the SVOG grant, we curated a special radio program entitled, "Native American Voices" which aired nationally throughout the month of November on Sirius Satellite Radio  which also commemorated National Native American Heritage Month.
The Native American Music Awards & Association, Tax ID 13-4032761,  proudly supports and recognizes the personal and professional accomplishments of prominent Native American musicians, actors, speakers, athletes and entertainers. We honor those that have built a great legacy by providing exemplary artistic work based on their traditions and serve as an inspiration for our youth.  We look forward to supporting and recognizing more voices who are great examples of excellence and who can benefit and enrich the lives of others. 
Empower and inspire our youth
The Native American Music Association most recently awarded a $2,500 scholarship in conjunction with the BMI Foundation to a 12 year old aspiring artist, Bryant Waupoose III, as a Rising Star to help support the professional recording of his beautiful traditional singing voice. With the Seneca Nation of Indians, and despite a historic snowfall in the Buffalo area, we were able to honor; Sten Joddi (Rez Dogs),  elder, Oren Lyons with a Living Legend Award, actor Rodney Grant with a Lifetime Achievement Award and induct Micki Free of Shalamar and the Beverly Hills Cop soundtrack into the Hall of Fame.  We also produced a special one hour television broadcast program of these awards presentations which was broadcast on the Cowboy Channel and on Gila River TV. 
We will continue to ensure our strongest voices are entered for consideration in the Grammys, or the National Recording Academy as well as for placement by Music Supervisors in Film and Television. Going forward, the Association plans to continue to honor and recognize Indigenous artists each year as we have for the past 20 years. The Native American Music Awards & Association looks forward to returning to regular activities  and programs after a three two year hiatus due to Covid 19 and its drastic impact in our tribal communities.  Sadly, our entertainment community was not without its losses during that challenging time.
The goals of the organization are to educate the general public and ensure a greater understanding of Native American music culture by promoting it to fellow artists, radio stations, record labels, publishers, booking agents, and other organizations while also offering greater exposure and networking opportunities. Each year, the Association produces a program of the annual Native American Music Awards and Hall of Fame to honor National Native American Heritage Month. The Association also researches and manages radio airplay, sales activity and new recordings released each year.  We publish news, conduct marketing research and and disseminate information about important events and occurrences in Native American Music and Entertainment. (13-4032761)
THE NATIONAL NATIVE AMERICAN MUSIC ASSOCIATION
A Non-Profit 501(c)(3)Founded 1998


Native America is a culture and a people deeply stemmed and intertwined in music since the onset of their existence. We have a song for every aspect of life; ceremonials, sports and dance to courting, birth and death. We have survived incredible oppression and challenges. Today, we celebrate our survival through music and dance. With the increasing popularity of today's Native American music, the Native American Music Association is helping Native societies transform as our music provides a continuing capacity for community renewal and cultural enrichment. 

BOARD OF DIRECTORS:

Ellen Bello,  Kae Kotarski, Rose Fernandez, Andy Anderson, Leon Thompson (Yaqui), Kim Acosta (Ojibwa), John Frazier (Ogalala Lakota), Butch & Billie Artichoker (Lakota), Michael Kickingbear (Mashantucket Pequot).

Over 200 Advisory Board Members

Plus Over 20,000 registered online Voting Members
CONTRIBUTE TODAY & SHARE IN A HISTORY FOREVER

The Native American Music Association is the world's leading resource for Native American music. USA Today has urged the national public to "take us seriously" and the New York Times has credited it's founder, Ellen Bello's life's devotion "to bringing indigenous music to the world's consciousness".

The Native American Music Association (N.A.M.A.) was established in 1998 as a 501(c)(3) surrounding the national debut of the Native American Music Awards in order to celebrate the rich musical heritage of first nation's people while educating the general public.

Our organization remains committed to preserving and promoting Native American culture through both traditional and contemporary music initiatives. Our organization also responds to  Call to Actions from various Native communities including; emergency heat efforts for low income families, annual toy drives for impoverished children, musical instruments for those who have served our country, and national suicide prevention awareness campaigns. 


OUR PROGRAMS: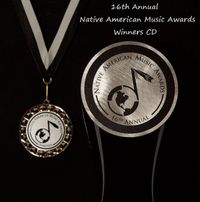 FREE WINNERS Music and CDs Various Artists

YOUTH SUICIDE PREVENTION CAMPAIGN     

   CHILDREN's MUSIC PROGRAMS  
  

FREE INSTRUMENTS FOR VETERANS

 

 EMERGENCY HEAT, ELECTRIC, FIREWOOD, PROPANE
Throughout our history, members of this all-volunteer Association have celebrated and shared many other successes;

-Successfully proposed a new category for Native American music in the Grammies in 2000 which was recreated as a "Roots" category in 2011 which we serve on the committee for.
-Placed Native artists in collaborations with mainstream artists
-Trained Native American youth in concert events and productions
-Established a cultural diversity program to recruit Native American employees at MTV Networks
-Educated and entertained employees of parent company, Viacom with music programs
-Commemorated National Native American Heritage Month as proclaimed by the President of the United States each November
-Returned a lost song of the late Apache leader, Geronimo, back to his family
-Provided emergency over $15,000 in emergency heat (proprane, electric heat, and/or firewood) in freezing tempatures for in over 150 sub standard homes on the Pine Ridge Reservation
-Provided toys for children on the Rosebud Reservation at Christmas time
-Presented special music concerts and performance opportunities from Alaska to New York City and in between.
--Received letters of acknowledgement from Presidents and a proclamations from Mayors
-Maintaining the world's largest national music archive in all formats housed since 1990.
"The music of the Indian is the spontaneous and sincere expression of the soul of a people.
It springs from our own continent, and is thus, of all music, distinctly American. 
If Indian song be encouraged with Indian, and recognition of it awakened among our own people,
America may one day contribute a unique music to the world of art." 
- Natalie Curtis, Musicologist

"...a charm of spontaneity that cannot fail to please those who would come near to nature
and enjoy the expression of emotion untrammeled by the intellectual control of schools." 
- Alice Fletcher, Anthropologist
"The Medicine Man, taking his music with him, is passing quietly into the Great Silence where the old songs, were received in dreams."
-Frances Densmore, Ethnographer
The Native American Music Association was first formed with a hope that one day Native Americans in the United States could receive equal recognition as musicians. Until our organization, the music of Native Americans remained hidden from the mainstream. N.A.M.A. provides the needed inspiration and exposure for those who want to share the gift of music with the world. The Native American Music Association is the largest & only professional membership based organization for the advancement of Native American music initiatives & expressions across the country and around the globe.

Originally traditional music was an integral part of Native American life and tribal identity, such as; round dance songs and flute music.  Native American music has grown to encompass many contemporary genres such as; rock, pop, blues, hip hop, country, and new age as well as have created some unique genres that remain distinctly indigenous such as; Waila or Chicken scratch, and Native American church music.

We have produced the various programs including the Native American Music Awards. Our programs honor our Native song makers, foster pride in our First Nations young people, and provide national and international exposure, celebrating our gifts of musical expression with others around the world. We create additional opportunities for our Award winning artists to serve as important role models for our Native American youth, inspiring them to follow their dreams, to be successful, to lead healthy lives for future generations.

NATIONAL MUSIC ARCHIVE:

Today, we are the World's Leading Resource for Contemporary and Traditional Native American Music Initiatives consisting of over 200 Advisory members and 20,000 registered voting members.  Our Association promotes diversity and celebrates the rich cultural heritage of our nation's first people on a national and growing global level. Our organization is committed to preserving Native American culture and continuing the traditions of our ancestors through traditional and contemporary music initiatives and programs. Native American Music is strong and alive and we remain the only legitimate and professional organization exclusively committed to preserving and promoting Native American music today. We acquire approximately 150 to 200 recording entries each and every year. We showcase over 30 different Native American music genres each year at our annual Awards ceremony while adding new categories when necessary. The Native American Music Awards celebrates a cultural revival through those that have preserved, adapted and prospered in the fields of traditional and contemporary musical excellence.
NATIONAL MUSIC ARCHIVES BY ARTIST (click on link) 
files/NAMA_ARCHIVES_BY_ARTIST.pdf

NATIONAL MUSIC ARCHIVES BY RECORDING TITLE
files/NAMA_ARCHIVES_BY_RECORDING_TITLE.pdf

 
MORE ABOUT NATIVE AMERICAN MUSIC 

The Native American Music Association, a 501(c)(3) organization preserves and promotes the rich oral history of Native America. Used in all aspects of life, music and song marked every public event and private occasion in American Indian life. Historical information, lineage, stories and tales were passed from generation to generation through song. But traditional Native American music is becoming lost forever. For the true generations that can preserve the stories and the songs, they are the oldest – the elders – who comprise a population that is steadily dwindling. With the loss of elders also comes the loss of language, cultural traditions and an important part of our own history, the oral history of the First Americans. Native Americans also suffer twice the proportions of unemployment, poverty, and alcohol related deaths than the national average. Native youth face immense pressures, challenges and limited opportunities.  For those that overcome the immense obstacles they face, they are empowering themselves and rejuvenating their culture through contemporary music initiatives.

CULTURAL TRADITIONS VS. CULTURAL RENEWAL

With it's roots firmly planted in traditions hundreds of years old, music and song were, and still are, an integral part of Native American life. Without a written language, care was taken to transmit songs accurately, from generation to generation. As part of this nation's folklife, the early fieldwork of scholars, anthropologists, and ethnomusicologists proved that traditional music was just as emotional, complex and cultivated as any other modern art form. The drum is considered the heartbeat of all that is. Other natural instruments such as; Rattle, Whistle, Cowhorn, Flute, and Bells, whether given by the "Creator" or made by skilled craftsman, facilitated a symbolism of sound and image and an interaction and relationship to all parts of the living world. As Native American music evolves, artists compensate their lost nature world using European-influenced and electric recreating earth sounds. Like the tradition keepers of ancient times, today's musicians still can offer their communities the capacity for cultural renewal and tribal enrichment.

The arts are rich and inexhaustible resources which help our young people learn and grow in healthy ways. Music is one of the most important forms of self-expression which can help young people cope with difficult feelings. Through new music initiatives, Native youth are building resiliency, increasing their ability to express their emotions, and learning to manage their feelings in healthy ways. Together the Association & Awards continues to provide the needed hope and assistance for these individuals to become great catalysts for change.

Join us in preserving the history and heritage of Native American for all of America through our arts and education programs.
JOIN NAMA NOW

FOR OUR DONOR BROCHURE - CLICK HERE
AND HERE
 
While there are many concerns to face these days that are specific to government, state, or region, there are certain issues that affect all Native communities throughout the United States. Native peoples suffer from high rates of poverty and unemployment. Throughout history the territorial dispossession of indigenous peoples has gone hand in hand with natural resource exploitation. Native women and children suffer from an epidemic of violence. Many Native Americans live on reservations in substandard housing. Many suffer from high rates of diabetes, obesity, substance abuse. Native languages are struggling to survive. Today, from the Dakota Access Pipeline in the U.S. to the Tar Sands in Canada, Indian nations are standing on the front lines of opposition to hydraulic fracturing and pipelines that are violating treaty rights, threatening the environment and contributing to climate change in the process.
Association 2008 - 2009 Tax Documents For Public Inspection

IRS 990-N
click here
NYS CHAR500
click here