THE 2011 NATIVE AMERICAN MUSIC AWARDS


The host emcee for the 2011 awards show is

Ted Nolan
. Theodore John Nolan was born in the Garden River Ojibwa First Nation Reserve outside of Sault Ste. Marie, Ontario. He is currently the Head Coach of Latvia men's national ice hockey team. Ted is well known for being the former Head Coach of the Buffalo Sabres and New York Islanders. A retired Canadian professional hockey left winger, Ted played 3 seasons in the National Hockey League for the Detroit Red Wings and Pittsburgh Penguins. Ted and his wife Sandra are the parents of Brandon Nolan, a Vancouver Canucks draft pick who last played for the AHL's Albany River Rats, and Jordan Nolan, a draft pick of the Los Angeles Kings who currently plays with the AHL's Manchester Monarchs. Ted is very active in his foundation, the Ted Nolan Foundation. Through the philosophy of healthy lifestyle, the Ted Nolan Foundation is committed to renew and revitalize the mind, body and spirit of our young people.







Buddy Big Mountain is a self-taught ventriloquist of Mohawk and Iroquois descent. He is internationally recognized as the first Native American master Ventriloquist Puppeteer. His blend of comedy, ventriloquism, singing, magic and hand crafted marionettes have delighted audiences from around the world. Since the late 1980's, Buddy has established himself as one of Indian Country's most popular comedy entertainers of today. www.linkedin.com/pub/diana-big-mountain/20/aa1/602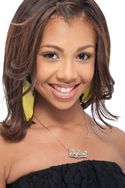 Montaukett Indian Nation member

Dylan Jenet Collins

is a 13 year old Singer, Songwriter, Actress and Dancer, whose name means "Winter Rain." Hear Our Prayer is Dylan's first single as a Native American performer. This powerful musical statement comes directly from her heart – reflecting a deep connection to her native roots. Inspired by the Great Spirit, Dylan Jenet 'Winter Rain' Collins applies her talent and creativity to honor her Algonquian Nation and further the cause of Northeast Indigenous rights. Dylan has performed on stage, on film and on television. Some of her major accomplishments include; being a featured soloist for President Barack Obama at the Democratic National Convention in Denver, Colorado; and at the Presidential Neighborhood Ball in Washington, DC. Dylan's numerous theater credits include playing Young Nala in Disney's Broadway Production of The Lion King.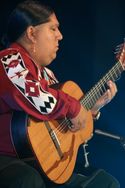 Gabriel Ayala

is at the forefront of a new generation of Native Americans making a career performing classical music. Gabriel performs regularly throughout the United States, has appeared at the John F. Kennedy Center for the Performing Arts, and has been recognized by the former State of Arizona Governor Janet Napolitano, now Director of Homeland Security. In 2009, Gabriel was nominated and performed at the Native American Music Awards. He led the Native American Music with the most nominations and received Best Instrumental CD for "Tango!".






Native American musician and road guitarist for Darryl Tonemah,

Ed Koban

makes his solo debut with EdKo and the Brotherhood as the first official house band of the Native American Music Awards. EdKo, as he is sometimes known, is of Mohawk decent and has performed in nationally recognized venues such as; The Kennedy Center & the Smithsonian Institute in Washington DC, and at The 2002 Winter Olympics in Salt Lake City Utah. With Tonemah, he was awarded the Best Folk Recording for Welcome to Your Rainy Day at the 2007 Native American Music Awards. In 2007, Edko was also nominated for Best Original Guitarist at the Buffalo Music Awards as well as at the Molson Niagara Music Awards.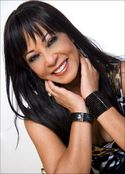 Janice Marie Johnson

, who is of Stockbridge-Munsee-Mohican heritage was inducted in the Native American Music Association's Hall of Fame in 2008. In the days of Disco, Janice-Marie's group, A Taste of Honey, received a crash course in the potential of a hit single. Their first recording, Boogie Oogie Oogie, hit #1 on the International Pop, Disco and R&B charts. The single and self-titled album were certified double Platinum in the USA (Capital Record's first platinum single) and went Gold in the United Kingdom and Japan. A Taste of Honey nabbed the Best New Artist of the Year Grammy Award along with an additional Best Vocal Performance By Group or Duo Grammy nomination. Janice-Marie Johnson received the Best R&B Song, Grammy nomination, as well, for writing Boogie Oogie Oogie. Another Taste, the second ATOH album, went Gold in Japan and garnered a Gold Single and Album, with "Do It Good". This catchy tune also won the Gold Prize awards at the 8th Annual Tokyo Music Festival and national acclaim in the US rising to # 13 on the R&B charts. Consecutive albums reached the top of the Pop, R&B and Easy Listening charts. Janice-Marie released two solo CDs on her Tastebuds Records label, "Hiatus of the Heart" & "Until The Eagle Falls". She was awarded the Native American Music Award for 'Producer of the Year'. In 2008 Janice-Marie was inducted into the Native American Music Awards 'Hall of Fame'.








An accomplished artist, master guitarist and native flute player; singer, songwriter, composer and producer,

Keith Secola

is an award-winning figure in contemporary Native American music unlike any other. His music is familiar to thousands of fans across North America and Europe, where he's been playing his brand of progressive music in concerts for several decades. Keith's famous song, "NDN Kars", is considered the contemporary Native American anthem and is the most requested song on Native radio in the US and Canada. Keith Secola is Anishinabe (Ojibwa) originally from the Mesabi Iron Range country of northern Minnesota, now residing in Arizona. He's a member of the Anishinabe Nation of northern Minnesota and southern Ontario, Canada. Secola is a seven-time Native American Music Awards winner and has received numerous nominations in various categories. His awards include: Artist of the Year, Best Linguistic Recording, Best Folk/Country Recording, Best Producer, Best Instrumental Recording, Best Blues/Jazz Recording, Best Independent Recording. Known for his involvement in activism, Secola worked with Irene Bedard on environmental concerns and Native American Rights. His band has performed under many names including; The Wild Band of Indians, The Wild Javelinas, and Wild Onions. He is also a graduate of the University of Minnesota with a degree in American Indian Studies. Keith will be inducted into the NAMA Hall of Fame.





Nokie Edwards is universally recognized as one of the world's premier guitarists. He was born Nole Edwards in 1935 in Lahoma, Oklahoma. His nickname, "Nokie" was given to him by his father Albert Lee Edwards he is very proud of his Cherokee heritage from his mother and mother Nanny May Edwards whose maiden name was Quinton. Nokie learned how to play guitar at the age of five. By eleven, he could play all string instruments. He turned professional at the age of twelve. At seventeen, his guitar virtuosity was unmatched and unprecedented. In 1959 he was approached by a couple of guitarists from Washington, Don Wilson and Bob Bogle, who asked him to join them in forming a band which became known as The Ventures. The group's first hit single was a remake of guitarist Chet Atkins' 'Walk Don't Run' which peaked at #2 on the charts. The Ventures followed up the hit single with an album appropriately entitled "Walk Don't Run". While touring with The Ventures, Nokie played lead on many famous hits that were recorded by The Ventures; such as 'Hawaii 5-O' , 'Fugitive', 'Surf Rider' (also known as 'Spudnik',) 'Moon Child',' Slaughter on Tenth Avenue', 'Wipe Out', and 'Pipeline'. During the 1960's alone, Nokie Edwards and The Ventures had 33 albums to hit the US charts, 5 of these influential albums went "Gold'. In addition to The Ventures albums, Nokie has performed as a guest on over three dozen CD's and recorded over two dozen solo albums - seven of which he produced of his own. His concerts consist of the famous hit songs of The Ventures as well as Nokie's favorite country, classical, light jazz, blue grass and "oldies" hits. During the past two decades Nokie has accumulated accolades of awards in the US and around the world including the Best Instrumental Recording for his CD, "Hitchin A Ride" in 2010 by the Native American Music Awards. Nokie will be inducted into the NAMA Hall of Fame.







From the heart of the Ojibwe woodlands,

Pipestone

spins tales of love's wild ups and downs in their fresh collection of round dance songs. With often hilarious lyrics taken from life on the Pow-Wow Trail, Pipestone combines tough singing and a swinging hand drum beat in their tribute to love's break-ups and make-ups. As Recipients of the 2007 Native American Music Awards Record of the Year, Pipestone was awarded for their fifth CD entitled, Good Ol' Fashioned NDN Lovin, a cut of traditional hand drum-based round dance songs with English lyrics that speak to some of the humorous events surrounding their drum and friends around Indian Country. The group was subsequently presented with praise in their community for embracing their tribal traditions, language and culture while representing the LCO Tribe, Ojibwe Nation and their families in a positive way as they traveled the pow wow circuit for many years. These singers honored included: Mike Sullivan Sr., who composed the songs, Tom Cain, Martin Powless, John Anderson, Opie Day-Bedeau, Nick Hanson, Ahsinees Larson, John Morrow, Cetan Wanbli Williams, George "Budman" Morrow III, Jerome Powless, Melvin "Mat" White, Wendall Powless, and Michael DeMain. The growing popularity of their round dance style is winning fans beyond the Native community and these talented singers weild a winning music formula.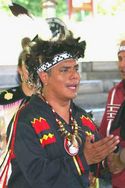 Bill Crouse

is an enrolled member of the Seneca Nation of Indians. The visual expressions of Bill Crouse have everything to do with being a Seneca person. His intense interest in Iroquois images goes hand in hand with his commitment to performing and educating people about Iroquois culture. Crouse grew up performing his culture, noting changes in styles as he grew. Although he is better known as an MC and head singer of the Allegany River Indian Dancers, Crouse's acrylic paintings, watercolors, and sketches show another side of his expression. Bill gives public performances of social dances and songs, but is also called on locally to perform ceremonial songs.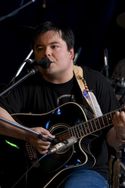 Marc Brown & The Blues Crew

are the only band out of Alaska to ever play the House Of Blues in Vegas and BB Kings in Hollywood. The Blues Crew have won numerous Fairbanks Battle Of The Bands, along with 3 Alaska State Battle Of The Bands. This year, Alaska's greatest rock/blues band released their 10th cd, Indian Rock'n'Roll. Over the years, they have opened for ZZ Top, Jethro Tull, J Geils Band, Fabulous Thunderbirds, Eddie Shaw and John Hammond. Marc Brown & The Blues Crew were nominated as Debut Artist at the Native American Music Awards in  November 2010. This band consists of Marc Brown on guitar and vocals, Jason Slats on saxaphone, John Bringhurst on drums and Noel Camp on the bass. They have been doing 150 + shows a year for the past 16 years and are still packing clubs where ever they go.


0:00/3:29

0:00/3:27

0:00/5:20

0:00/10:34

0:00/4:17

0:00/2:26

0:00/3:02

0:00/3:44

0:00/3:53

0:00/2:56

0:00/7:30

0:00/3:19

0:00/3:57

0:00/3:19

0:00/3:30

0:00/3:10

0:00/4:35

0:00/4:36

0:00/3:20

0:00/4:24